You Deserve The Best Signage Solution!
If you are in the market for an impressive dimensional signage that demands attention, you have found the Best that the sign industry has to offer. We have shipped across the nation for 27+ years. Our goal is simple - to provide the most cost-effective signage solutions for your needs. We offer any shape, any graphics design, color matching, faux masonry and even integrated electronic LED message boards.
This coastal community requested an entrance sign monument with faux wood beams and faux iron hardware.
---
One of the sign monuments in this package has integrated changeable aluminum panels so graphics can change easily and inexpensively.
---
By combining our knowledge in the construction industry with our graphic design talents, we have developed the perfect sign solution for both commercial and residential monument signage applications. Our custom stucco sign monuments are designed to tailor any need. Examples include monument signs with changeable tenant panels, church identity monuments, school and educational facility sign structures, business park entrance monuments, monument signage with changeable reader boards, electronic LED panels - you name it!
These sign monuments are for the City of Wentzville, MO Historic District. The faux brick columns have recessed areas and dedication plaques for the sponsors (local businesses) who made the project happen. The electronic LED boards are full-color P-10 with wi-fi control access for unlimited fonts, pictures -they even accept common movie formats and animation! Our LEDs come with 24-7 toll free tech support & training. They are truly plug-n-play!
We are unique by offering the best designers, the best materials, and the best production artists in the Sign Industry. Our in-house talent encompasses every area of graphic and fabrication fields, designed & engineered to produce the best architectural monument signs.
Here are some typical applications which require our custom Stucco Monument Signs:
We have fine-tuned every aspect of made-to-order sign monuments. You will be in touch with an experienced sign designer, seasoned in cost-effective solutions. We listen to your needs and deliver!
Our team will walk you through every stage, from design to installation, making the entire process simple and rewarding. We have sign monument examples in every climate imaginable, and are already set up as approved vendors in City Planning & Development Departments nationally, making Permitting a breeze. We are in fact the ONLY sign monument manufacturer that has yet to lose a single monument sign in ANY Gulf Coastal community in the past two decades' hurricanes!
Watch the animation below to see how we have made the process of buying the best sign monuments SIMPLE!
---
To start your project, please check out the Sign Monument Portfolio section of this site. It contains HUNDREDS of our real-life completed monument sign projects. Next, check out our Standard Monument Models and see if you like any of the designs.
A collection of sign monuments for all entrances to the City of Reidsville and a custom sign monument with faux block stone for a funeral home.
The final step is to complete our online Contact Form to request a complementary consultation for your sign monument project. Feel free to reference ANY sign monument project example (by name) that you think complements your development when requesting an Estimate. The more information you provide, the better we can assist your needs.
This sign monument has an integrated changeable reader board with faux brick base to match the existing facility.
---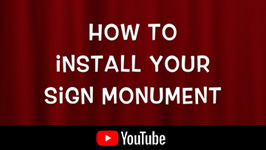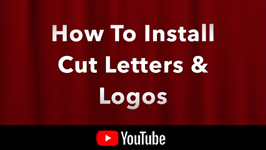 Watch our YouTube Video to see how easy it is to install your new architectural sign monument
or individual routed letters & logos!
---
Mansfield Oil needed a new entrance sign to match the brick on their facility.
This faux brick has a recessed area with brushed aluminum and 3-D routed graphics for the company logo.
---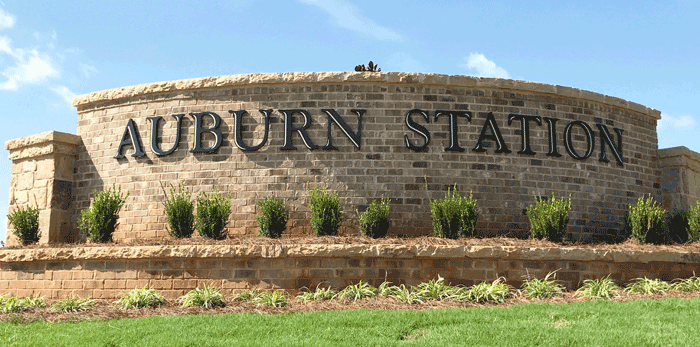 We produce outdoor (and indoor) sign letters at any size and in any font.
We also offer sign letters in any finish with color matching, including clear letters, and metallic finishes. We also offer letters with back-lighting!
---
These sign monuments are for the City of Stigler, OK entrances. The units have integrated energy-efficient, waterproof lighting, and the faux sandstone and cut-block stone finishes complement native rock in the area. We integrated embossed City Logos into the faux rock columns.
---
This is a popular subdivbision entrance sign monument model.
The Homeowner Association teamed together to do the installation themselves. The savings allowed them to get a bigger sign!
---
Monument Models

Need Ideas? See some.
See the Standard Sign Model Designs and more.

See Our Work

Examples? We have many.
Look at numerous pictures of completed sign projects.

Get A Quote

Questions? Get answers.
Complete our online form to receive a free quote.
---
Our team is a collaboration of artists with decades of experience in the dimensional signage and monument industry. Your project suited to your needs. We will provide you with the most dynamically designed signage solution. We will help you to brand the individuality of your company or property.
Our focus is to design, produce, and deliver the Best sign products.
Our goal is to make you look your Best, and to save you unnecessary expenses.
We offer personal service, creativity and value.
Custom monument signs provide a sense of distinction and permanence to your property. Our sign monuments are the style most desired and required by municipalities nationwide for an all over better looking community. With over (2) decades of nationwide success, we will make You Look Your Best!

Check out our Sign Photo Collage Gallery which includes hundreds of examples of signage projects we have designed and produced over the years!
---