Why Are We The Best Value For Sign Monuments.
We encourage you to compare pricing of our solution against a local contractor or sign shop, even if you are a property developer or in the construction industry. You will find that we are the best value.
---
Here is a typical example of our finished product before shipment: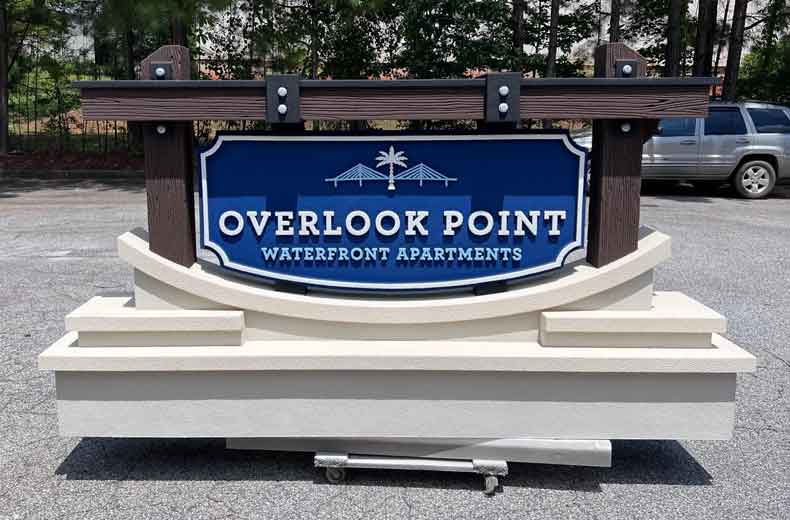 ---
If you are in the market for a sign monument, you are most likely:
A New Property Owner (Commercial, Residential, or HOA).
An Existing Or Soon To Be Property Owner.
Looking To Revamp Your Property Or Development With New Signs.
Wanting To Upgrade Your Property By Replacing Existing Signage.
Any property development needs branding, meaning signage marques, to identify the name of the property in the community. Branding should not only conform to Local Code Ordinance, but more importantly establish an "appearance" for the property. We offer sign monument solutions that meet or exceed Local Ordinance, and by design aesthetics, increase the value of the property. We offer long-term solutions (such as changeable tenant panels) to provide a lifetime solution with no need for reinventing or total replacement in future needs.
Are you looking to modify your established signs? With your provided photography of existing signage, we can easily suggest alterations if at all possible. Why not recycle what you have if you can? We can clearly explain if it is more cost-effective to modify or demolish and replace signage on the property. Either way, we will offer you the Best solution. You will be surprised by what we can design and produce to revamp your existing signage.
Keep in mind that our products do not require a concrete footer for installation. This means we can ship your new sign monument to your location, and it can be installed directly on the ground. We offer complete specifications for installation before fabrication, so there are no surprises.
---
The Best Value For Your Budget
Our custom sign monuments are the best value for:
Making a new architectural sign monument for commercial or residential property.
Matching existing signage with additional signage for your property.
Matching existing architecture with a new sign (for locations where the builder forgot about the sign).
We encourage you to price our EIFS Sign Monuments against a local contractor in traditional brick and mortar. You will find that we are less costs, quicker turnaround, and the best value solution. Traditional brick and mortar has the potential to fall off in time. Our faux masonry will never have this issue, and will provide a lifetime of use - even with regular cleaning.

---
Best Sign Monument Value Defined
Protect your investment with a solution that is both simple and that will last. Our team of specialists include designers and fabricators that work together under one roof, and are familiar with each stage of production. This means our Best Sign Monument solutions will minimize production costs for maximum results, hence the best value. You will work directly with a Project Designer that knows how to:
Design a sign monument that complements your facility.
Integrate faux masonry to further accent your facility.
Add graphics to match (or design new) branding.
Provide lighting solutions or suggestions (if required).
Coordinate delivery to job site.
Walk you through installation.
---
---
Monument Models

Need Ideas? See some.
See the Standard Sign Model Designs and more.

See Our Work

Examples? We have many.
Look at numerous pictures of completed sign projects.

Get A Quote

Questions? Get answers.
Complete our online form to receive a free quote.
---
The Best Sign Monuments require the Best solutions. Our focus is to offer a painless, one-stop source for your new sign monument project needs. Our goal is to make you look your Best, and to save you unnecessary expenses. And Yes, we deliver to YOUR job site anywhere in the nation.
Feel free to browse our Online Portfolio to see hundreds of examples of our work. You are welcome to complete our Online Contact Form to initiate the process of receiving your complementary consultation.

Check out our Sign Photo Collage Gallery which includes hundreds of examples of signage projects we have designed and produced over the years!
---