How The Best Sign Monuments Are Made.
Are you researching how custom sign monuments are made, and how we're able to produce and ship a large monument structure cost-effectively? Are you wondering if buying online is the best value versus buying local? And how long the product will last to protect your investment? Rest assured, you have found the right vendor for your custom sign monument needs.
Let's start the "How We Make Them" by answering some questions you may already have in mind:
---
Question: What is the product made of?
Answer: We use nationally recognized commercial grade EIFS (Exterior Insulated Finishing System). Want examples? Check out any local commercial storefront (Walmart, CVS, etc.) with stucco on it - that's EIFS.
We have fine-tuned (to say the least) the EIFS process to produce higher 3-D detail in stucco. Our production technologies include a vast variety of dimensional effects, including faux masonry textures such as brick, stone and wood.
Here are the technical details and materials used in EIFS sign monument fabrication.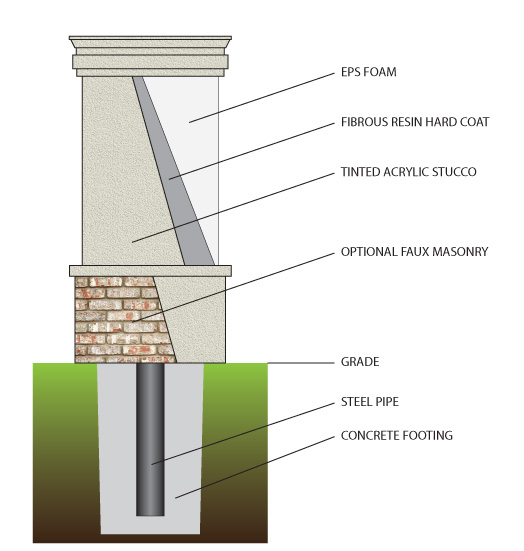 Note: The EIFS Stucco System was the answer to the "Hard Coat Stucco" issues from the 1980's. EIFS is a proven, field-tested system with a 100% success rate (from approved contractors fabricating in proper usage).
And here are our Sign Monument Technical Data Sheets.
---
Question: How can you ship a big architectural sign structure to anywhere in the USA?
Answer: The EIFS system is not only a durable, maintenance-free product, but is also lightweight. We encourage you to compare our product (including freight) against a local General Contractor and/or Mason. You will find we are roughly 30% cheaper than true brick-and-mortar.
---
Question: Okay, how do you really make them?
Answer: Your sign monument design is cut to shape using 3-D hot-wire technology. Our software allows the use of removed material to add decorative accents and even embossed graphics. Once all of the shapes are cut from the foam core, we can then assemble embossed graphics and accents before the next step - the resin coating. We spray a thick coating of acrylic resin, which is what gives the monument structure its structural integrity. The next step in fabrication is spraying the tinted acrylic stucco textured top coat. We can also hand-paint fine details as required to provide a unique sign monument solution that matches your design to your colors. We can match any paint color by Paint Manufacturer Color Code, or even from a physical swatch sample.
---
Question: How do these get installed?
Answer: We have taken our vast experience in installations and integrated our knowledge into the design of our products. We stand behind our claim of a typical sign monument going in the ground is in under (2) hours by a (2) person crew. For more information, check out the Installation Section of our site, or check out the YouTube Video below: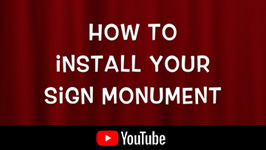 Watch our YouTube Video to see how easy it is to install your new architectural sign monument!
If after watching the YouTube Video, you still don't feel confortable saving money by installing yourself, please let us know! We'll be more than happy to speak with your landscaper or locate a local service to handle this portion of the project.
---
Added Product Value - NO CONCRETE SLAB IS REQUIRED!
---
Question: How long will my sign last?
Answer: We have examples in the field in every climate imaginable. From the brutal heat of the Atlantis Resort in the Bahamas to the deep cold of Eielson Air Force Base in Alaska. We have yet to have a single monument fail in the past two decades' hurricanes on the Gulf Coast, or any location. We offer a formal Warranty Certificate upon purchase, and brand each unit with our toll-free number and web address. How's that for standing behind our product?
---
Question: What can I get?
Answer: Our Best Sign Monuments are made to order. We can match any color scheme by paint manufacturer batch code, and match any existing masonry on your property by digital photograph. You can get your logo, any text, changeable panels, even integrated lighting or electronic LED massage panels that are programmed by laptop.
Our sign structures are lightweight enough to ship to any location. Our Monument Signs arrive fully assembled, and are a lifetime use, maintenance free product. We do recommended a regular 5 year cleaning schedule using a mild detergent, like dish soap and a garden hose.
---
---
Keep in mind there is no need for a concrete pad for our products.
Our monument solutions are designed to match your needs. We are more cost-effective than hiring a local contractor for the monument, a local mason (if your monument has faux masonry), a sign shop for the graphics, and an electrician (if your monument has lighting).
---
Monument Models

Need Ideas? See some.
See the Standard Sign Model Designs and more.

See Our Work

Examples? We have many.
Look at numerous pictures of completed sign projects.

Get A Quote

Questions? Get answers.
Complete our online form to receive a free quote.
---
The Best Sign Monuments require the Best solutions. Our focus is to offer a painless, one-stop source for your new sign monument project needs. Our goal is to make you look your Best, and to save you unnecessary expenses. And Yes, we deliver a quality product on time to any location nationally.
Feel free to browse our Online Portfolio to see hundreds of examples of our work. You are welcome to complete our Online Contact Form to initiate the process of receiving your complementary consultation.

Check out our Sign Photo Collage Gallery which includes hundreds of examples of signage projects we have designed and produced over the years!
---