Turnaround Time To Delivery.
Our sign production turnaround time is based on our ever-changing workload. We have developed an internal software production system that tracks each stage in the manufacturing of each monument sign project by department. Each stage in production is managed by an expert in that particular stage.
We have an average (4) week production turnaround time to leave our docks.
Keep in mind - Each project is made custom to order. We welcome the opportunity to design and create a custom sign monument package that meets your budget and exceeds your expectations.
Our artists are very strict in what passes through each station. Every project is produced as its own unique piece of art. This may lead to the possibility of a production delay if quality does not meet our internal standards. In these very rare occasions, you will be contacted immediately and informed of the delay. We are here to make quality, eye-catching sign monument structures that will last. Rest assured, we will do our job and deliver quality results.
---
Payment Terms.
We accept all major credit cards, wire transfers, and company checks. Keep in mind first time accounts require time for funds to post on company checks. We will gladly supply Federal and State Tax Documentations for your records.
As a suggestion for one-time orders - To protect both you (the customer) and us (the supplier), we also use PayPal as a means of purchase. PayPal allows the ability to a secure transaction, and provides payment protection on both sides of the transaction.
On any project order, we require 50% initial deposit to begin production. Once the project is compete, we will provide photography of the completed project for your approval. Upon your approval, we will then crate your project and schedule delivery. We then require the balance payment before release of shipment.
Check transactions require funds post before next stage of production or shipment.
---
Freight Services - Shipping.
We have accounts with all the major freight carriers, and will gladly shop around for the best freight rate for your project. We offer our bulk discount shipping rates as a courtesy.
Keep in mind that we are a sign manufacturer, and not a shipping company.
While we ship every project fully insured for value, we are in no way responsible for the actions of any carrier once the products leave our docks.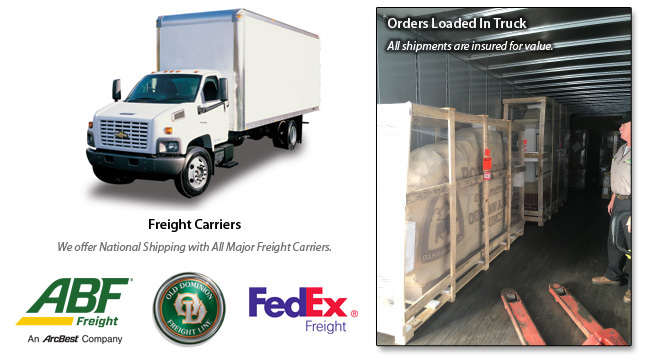 In the odd case there is damage to your project in transit using our freight services, we will handle the insurance claim and deliver the project per your request - repaired damage (quicker) versus new replacement (start over production). Again, these are very odd circumstances. Rest assured, we are here to protect your interests.
---
Sign Monument Product Material Warranty.
We use the EIFS (Exterior Insulated Finishing System) Stucco System in the fabrication of our custom sign monuments. Our sign monument solutions are lifetime use, low-maintenance products. We have our products in every extreme weather climate imaginable. From the humid heat of the Bahamas to the harsh cold climates of Alaska, even throughout the past two decades' of hurricanes on the east coast... We have yet to have had an issue with the integrity of a single monument sign project due to the environment.
This is an example of our sign monument product - Before it was shipped and a photo of the sign monument years later in the snow.
---
Sign Monument - Breakaway.
Sign Permit Applications nationally are starting a requirement to "Provide and install new sign monument structures with break-away systems." In short, regulations are being set in place to set standards to protect both property owners (whom own the sign) and the City Planners (whom issue the Permit) from any legal liability from potential sign monument impact.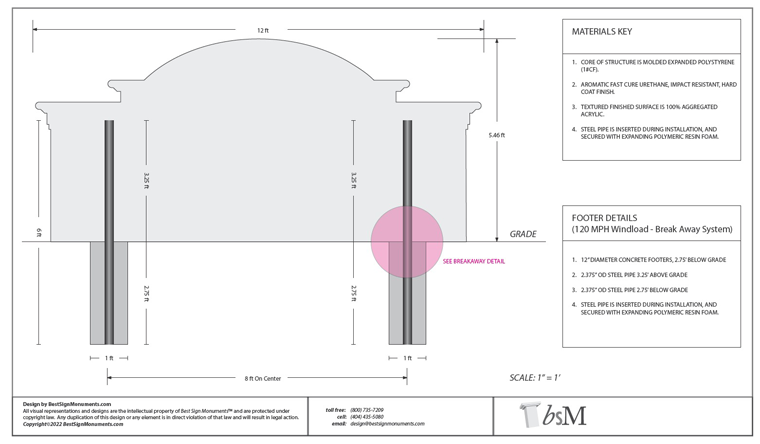 Over the years, we have developed (3) proprietary breakaway systems. Dependant on the project, we offer a system that breaks at ground level, another that shears, and another that pops out of the concrete form below grade. We have licensed engineers on staff that will determine which breakaway system to use. We also offer Engineer Stamped Mechanicals (for an additional fee) for your project to meet local Municipality Code.
You can learn more about our breakaway sign monuments by visiting this section in our Blog: Break Away Signs
We have had our sign monuments impacted by vehicles (all cases - DUI drivers). In these odd cases, the vehicle operators were never fatally harmed, and the units were easily replaced (if not repaired). We welcome the opportunity to review your Municipality Sign Ordinance Code and be of assistance in completing the Sign Permit Application.
---
---
Monument Models

Need Ideas? See some.
See the Standard Sign Model Designs and more.

See Our Work

Examples? We have many.
Look at numerous pictures of completed sign projects.

Get A Quote

Questions? Get answers.
Complete our online form to receive a free quote.
---
The Best Sign Monuments require the Best solutions. Our focus is to offer a painless, one-stop source for your new sign monument project needs. Our goal is to make you look your Best, and to save you unnecessary expenses. And Yes, we deliver to any job site in the continental United States.
Feel free to browse our Online Portfolio to see hundreds of examples of our work. You are welcome to complete our Online Contact Form to initiate the process of receiving your complementary consultation.
Our sign products arrive fully assembled, ready to position in place. Find out more on faux masonry such as brick and stone matching, embossed graphics that are vandal resistant, and other options such as:
We have fine-tuned every aspect of made-to-order custom sign monuments. You will be in touch with an experienced sign designer, seasoned in cost-effective solutions. We listen to your needs, and deliver results.
Our team will walk you through every stage, from design to installation, making the entire process simple and rewarding. We have sign monument examples in every climate imaginable, and are already set up as approved vendors in City Planning & Development Departments nationally.
Our team is a collaboration of artists with decades of experience in the dimensional signage and monument industry. Your project suited to your needs. We will provide you with the most dynamically designed signage solution.
---
Our focus is to design, produce, and deliver the Best sign products.
Our goal is to make you look your Best, and to save you unnecessary expenses.
We offer personal service, creativity and value.
---
Our custom sign monuments provide a sense of distinction and permanence to your business AND your community. In short, we will make You Look Your Best!

---