We design and produce the BEST outdoor lighted business signs – and we ship nationally.
Our products arrive fully assembled, ready to plug in and play. Our signage has the latest in commercial-grade LED technology, which is less than half the monthly utility costs and twice as bright as traditional fluorescent lighting. With a 20 year expected lifespan, our product will pay for itself in utility savings and no need bulb replacements.
Here is an example of an outdoor lighted business signs with top-down LED lighting:
And here are two examples of custom business sign monuments with back-lit graphics: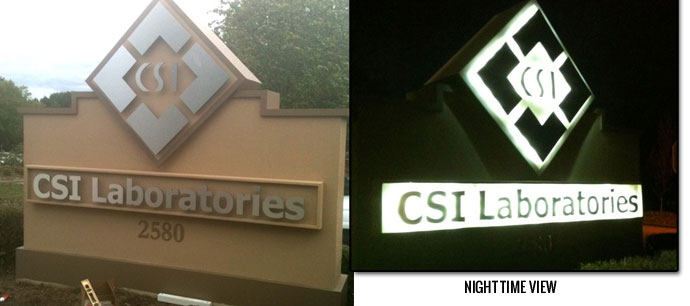 In addition to our business signage solutions, we also produce outdoor lighted church signs.
Our commercial grade outdoor lighted signs can be used for community entrance sign monuments.
Another example of our product in the field is for the entrance to City Municipalities:
Finally, our outdoor business lighted signs product line includes full-color programmable electronic message boards. Add the ability to advertise any text, graphics – even video and animation in full color!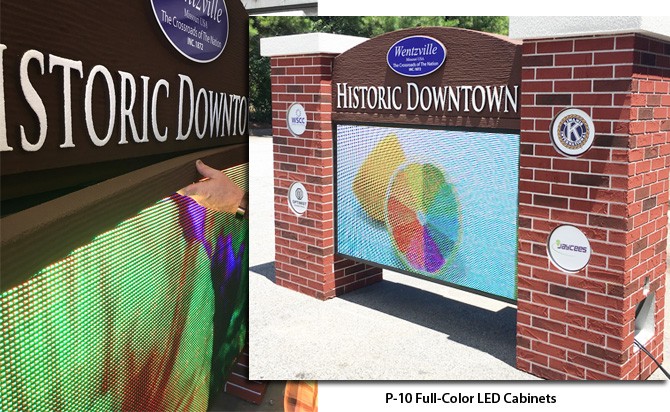 Our LED message boards include:
Plug in and play solution!
P-10 (pitch 10 millimeters between pixels) resolution, which is better than most in the field (P-16).
Full-color graphics that use any font, graphic, or animation.
Dual-side cabinets can be wired for independent graphics, meaning two messages running each way.
Software controlled brightness, timer, time temp sensor – all bells and whistles included.
Cabinet sizes made to order to fit your needs.
New laptop with controller software and Team Viewer for remote access training and technical support.
24-7 technical support.
Made in the USA.
Like our sign monuments, we offer the Best solution in electronic LED panels, and at a savings. Complete our Contact Form to request a quote on your upcoming LED sign project.
Our team is a collaboration of artists with decades of experience in the dimensional signage and monument industry. Your project suited to your needs. We will provide you with the most dynamically designed signage solution. We will help you to brand the individuality of your company or property.
---
Are you interested in a new sign? Get A Free Quote!
---
Call us toll free at (800) 735-7209 for your Sign Monument needs!
Our focus is to design, produce, and deliver the Best sign products.
Our goal is to make you look your Best, and to save you unnecessary expenses.
We offer personal service, creativity and value.
Custom monument signs with integrated LED lighting provide a sense of distinction and permanence to your property. Our outdoor lighted business signs and monuments are the style most desired and required by municipalities nationwide for an all over better looking community.
With over (2) decades of nationwide success, we will make You Look Your Best!