Sign Monument Cost – What To Expect.
The most common question our Sales Department receives is…
Question: "What is the cost of one of your monument signs?"
Answer: "It Depends On What You Want."
We will listen to your needs by first asking the stage and scope of your project. Do you have an established community, but the developer didn't think about a sign? Or do you have a sign that is outdated or damaged?
Ask yourself – "Do I want something fantastic, something nice, or just something?"
We house the best designers, the best technology, and the best solutions in the industry. Be open in discussing your budget and your needs and we will deliver the best solution available.
Need cost examples? To get an idea of neighborhood entrance sign monument costs, let us start by looking at some specific projects of real-life sign monuments.
This was new unit to replace an existing dilapidated sign. It has double sided graphics, and the street address on one column. This sign monument cost was around $8k delivered.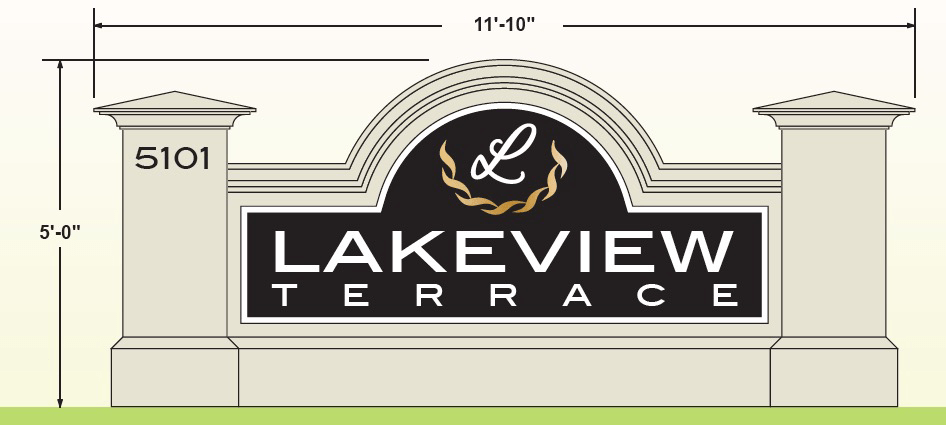 And here is an example of a brand new community development that just broke ground. We designed this sign monument to match the architecture of the housing, and faux matched the stacked stone that was common on the construction. This brand new double-sided entrance monument was around $14k delivered with the faux stacked stone match: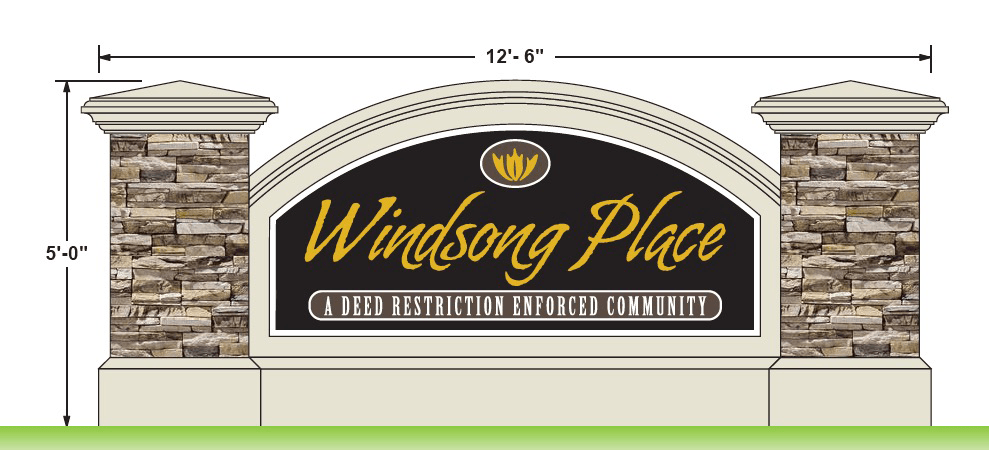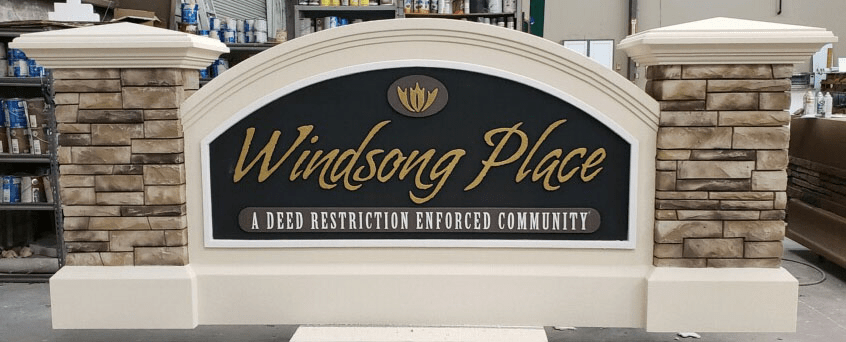 This example is for an existing retirement community that needed an updated sign monument. Here is the design and the final product before shipment, which ran around $7k delivered single sided graphics.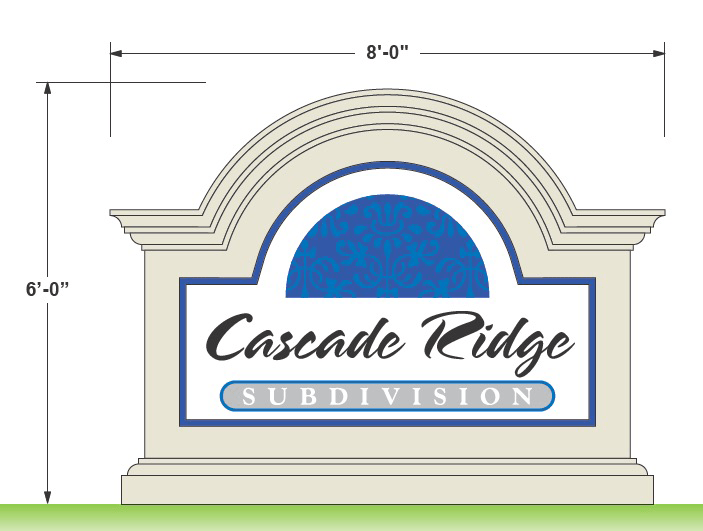 In this example, the community needed a modest-sized monument but the faux brick MUST match the leasing office the sign would be installed next to. They sent us a camera phone picture of the brick, and we matched it dead on. This example ran around $9k delivered with single sided graphics.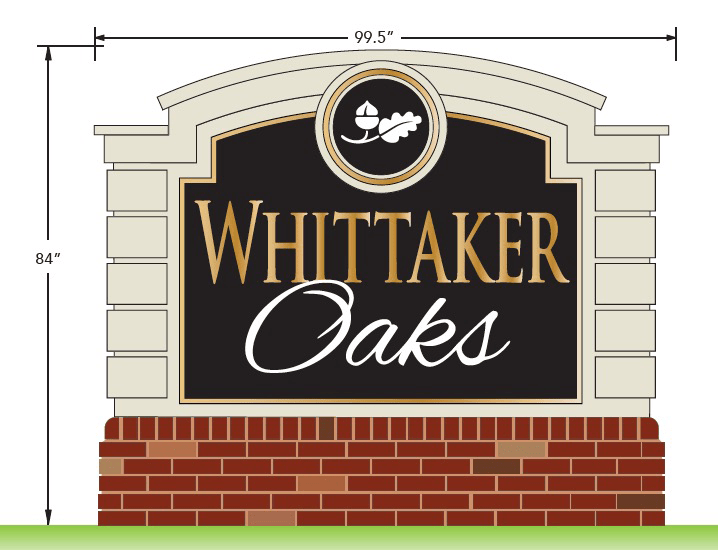 New construction is easy to design as there is nothing to match! We came up with this unique entrance sign monument and added additional 3-D embossed elements to the columns with double sided graphics for around $11k delivered.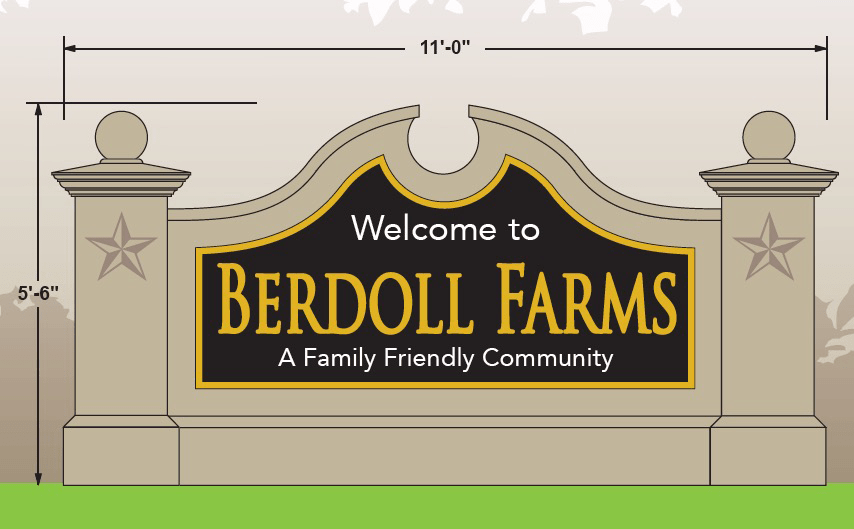 Many coastal communities like our signature 'wave' model design. This project ran around $9k delivered with double sided graphics.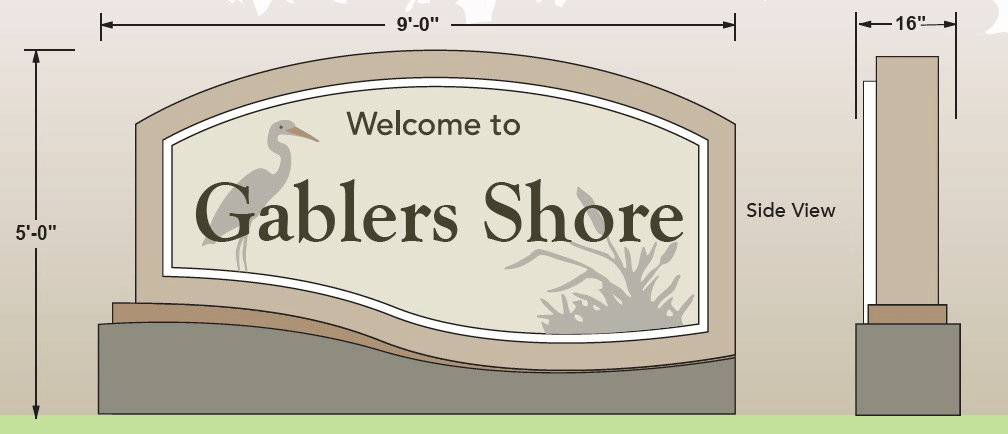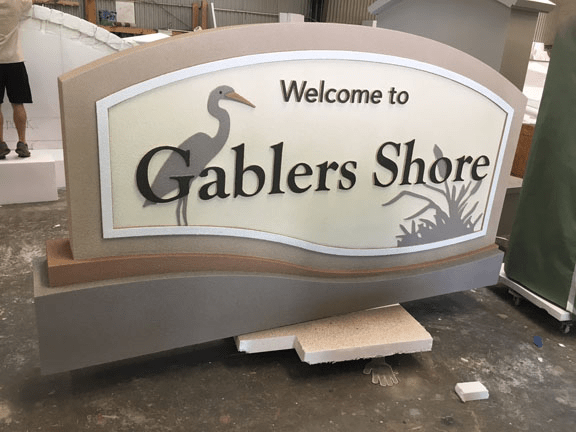 Can We Use Or Modify What We Have?
While every entrance sign monument is a 'new project,' we can of course integrate (recycle) any existing sign elements if at all possible to save costs. Send us photography of what you have on site, and we will gladly recommend any cost-saving options.
Install Yourself And Save!
While we can arrange for installation, we highly recommend doing it yourself as it is SO SIMPLE! You are saving by buying direct from the sign monument manufacturer, why not save more by installing yourself? This community HOA got together for a couple hours to plant this in place without a hitch:
---
Interested in beautifying your property? Get A Free Quote!
---
We encourage you to browse our:
Portfolio pages: http://bestsignmonuments.com/best-sign-monuments-portfolio-page-01.php
Pinterest page: https://www.pinterest.com/bestmonuments/
Or you can check out our 34 page sign monument photo collage with hundreds of sign monument and custom sign letter examples!
Our team is a collaboration of artists with decades of experience in the dimensional signage and sign monument industry. Your project will be designed and suited to your needs. Let us brand the individuality of your company or property.
Our focus is to design, produce, and deliver the Best sign products.
Our goal is to make you look your Best, and to save you unnecessary expenses.
We offer personal service, creativity and value.
Our sign monuments are the style most desired and required by municipalities nationwide. With over (2) decades of nationwide success, we will make You Look Your Best!