Each sign monument project is made to order. We will listen to your needs, and provide a custom sign solution. We deliver to any location in the country.
Here are examples 1-12 of our produced signage. Check out examples 13-24, 25-36 and 37-48.
Your sign monument will arrive fully assembled, ready to plant in place. If you can install a mailbox post at the end of your driveway, you can install our product.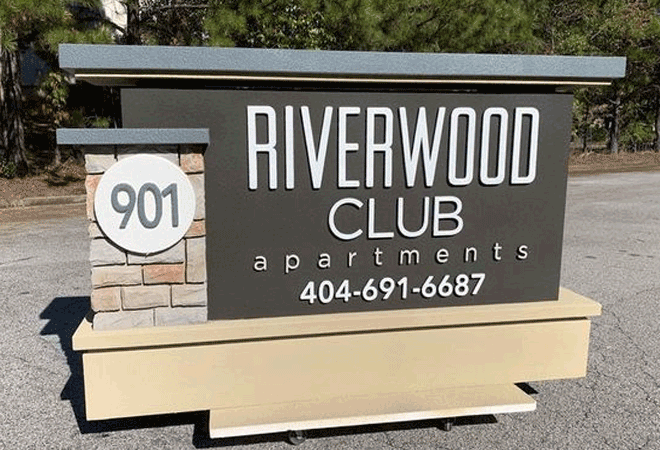 Riverwood Club Apartments Entrance Sign Monument - faux stone column and embossed graphics, GA
---
Overlook Point Waterfront Apartments Entrance Sign Monument, SC
---
HOA Community Entrance Sign Monument for Fossil Hill Estates, TX
---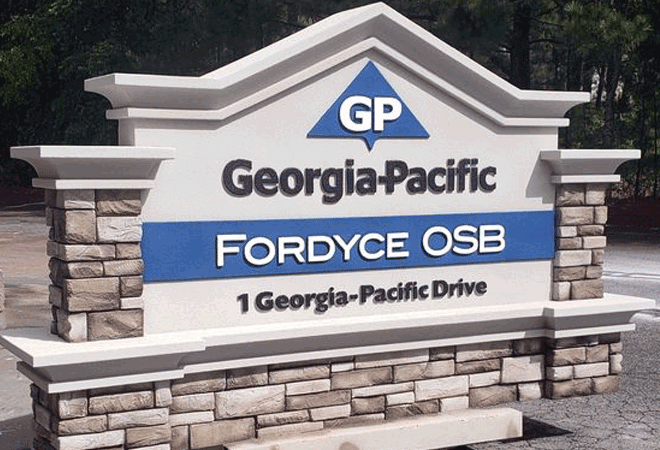 Corporate Sign Monument with Faux Stone Columns and Embossed Graphics, AR
---
Single Column Stone Base Sign Structure with Hanging Sign, NC
---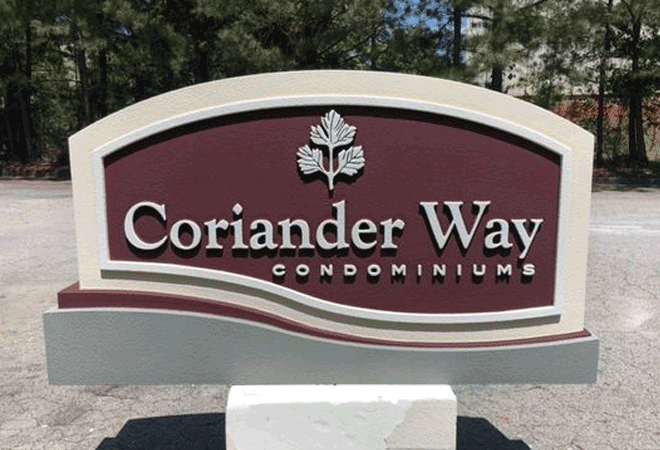 Signature Wave Monument Sign Design - Coriander Way Condominiums, NJ
---
City Entrance Sign with Faux Wood Beams, Stone Base and Iron Supports - City of Otsego, MN
---
Cheat Lake Community Church Sign Monument, WV
---
3-D Carved Restaurant Sign with Back-Lit LED Letters and Internal Lightbox - Public House, GA
---
Faux Boulder Sign Monument On Block Stone Base and Embossed Graphics - Legends Village HOA, TX
---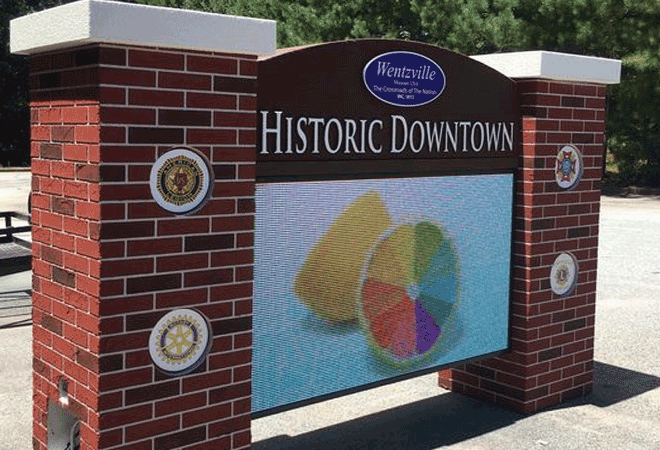 City Entrance Sign with Full-Color LED Message Boards - City of Wentzville, MO
---
Community Entrance Sign Monument - Annapolis Road, MD
---
---
Check out these quick-links to view many different applications of our signage and sign solutions:
We welcome the opportunity to hear from you, and listen to your needs. Tell us everything about your project! Is it a new business model, or how old is your development? What is the architectural style of the facilities? The more information you provide, the better we can service your needs. This info will allow us to design a unique, timeless sign monument solution that will make you look fantastic.
Our Best Sign Monuments are made to order. We can match any color scheme by paint manufacturer batch code, and match any existing masonry on your property by digital photograph.
Keep in mind there is no need for a concrete pad for our products.
Our monument solutions are designed to match your needs. We are more cost-effective than hiring a local contractor for the monument, a local mason (if your monument has faux masonry), a sign shop for the graphics, and an electrician (if your monument has lighting).
---
Monument Models

Need Ideas? See some.
See the Standard Sign Model Designs and more.

Get A Quote

Questions? Get answers.
Complete our online form to receive a free quote.
---
The Best Sign Monuments require the Best solutions. Our focus is to offer a painless, one-stop source for your new sign monument project needs. Our goal is to make you look your Best, and to save you unnecessary expenses. And Yes, we deliver to any job site in the continental United States.

Check out our Sign Photo Collage Gallery which includes hundreds of examples of signage projects we have designed and produced over the years!
Note any photo gallery examples in the Comments section of the Online Contact Form to get a free consultation.
---