Neighborhood Entrance Sign Costs – What To Expect.
The most common question our Sales Department receives is…
Question: "What is the cost of one of your monument signs?"
Answer: "It Depends On What You Want."
We will listen to your needs by first asking the stage and scope of your project. Do you have an established community, but the developer didn't think about a sign? Or do you have a sign that is outdated or damaged?
Ask yourself – "Do I want something fantastic, something nice, or just something?"
We house the best designers, the best technology, and the best solutions in the industry. Be open in discussing your budget and your needs and we will deliver the best solution available.
Need cost examples? To get an idea of neighborhood entrance sign monument costs, let us start by looking at some specific projects of real-life sign monuments.
This was new unit to replace an existing dilapidated sign. It has double sided graphics, and the street address on one column. This sign monument cost was around $8k delivered.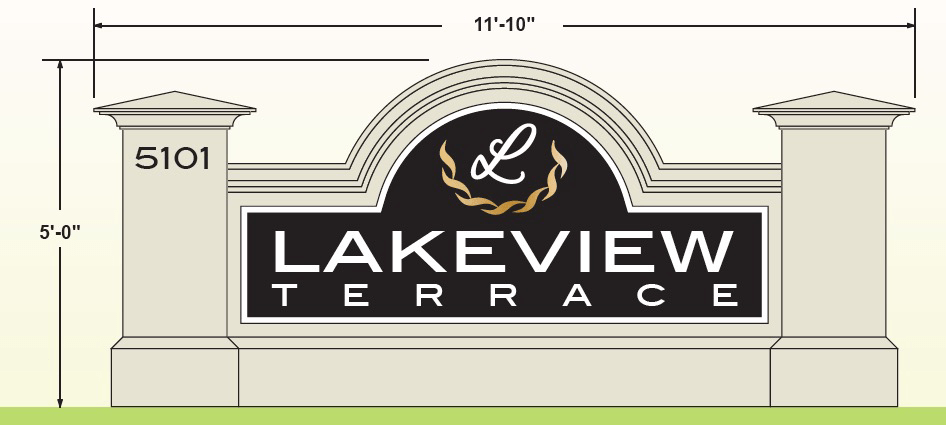 And here is an example of a brand new community development that just broke ground. We designed this sign monument to match the architecture of the housing, and faux matched the stacked stone that was common on the construction. This brand new double-sided entrance monument was around $14k delivered with the faux stacked stone match: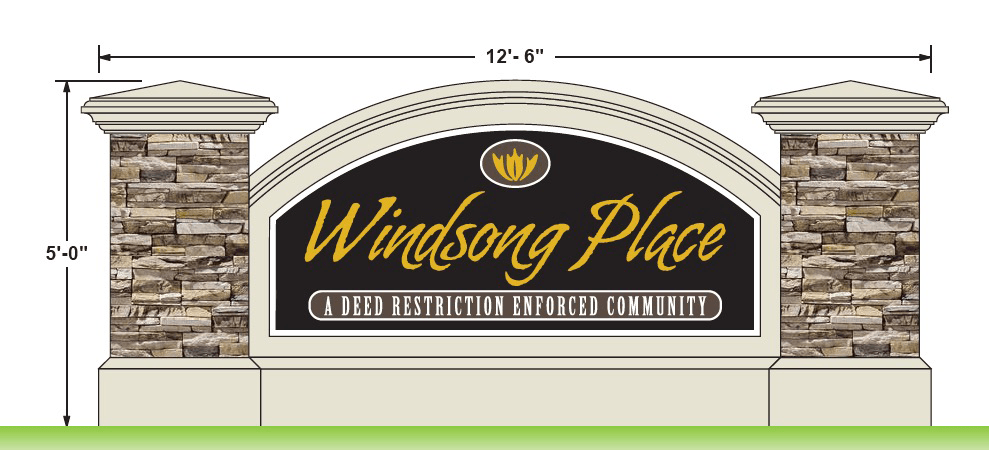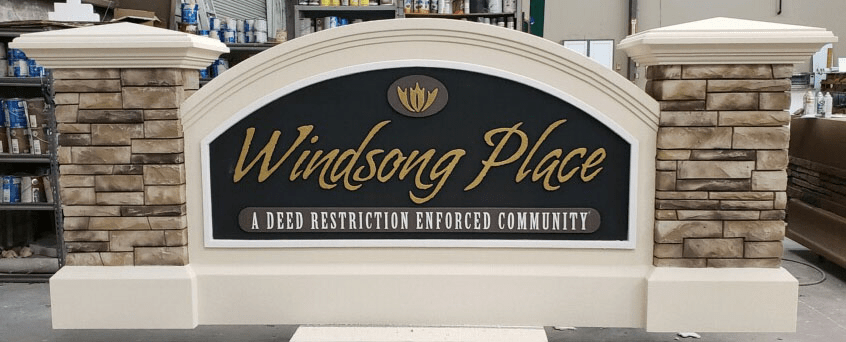 This example is for an existing retirement community that needed an updated sign monument. Here is the design and the final product before shipment, which ran around $7k delivered single sided graphics.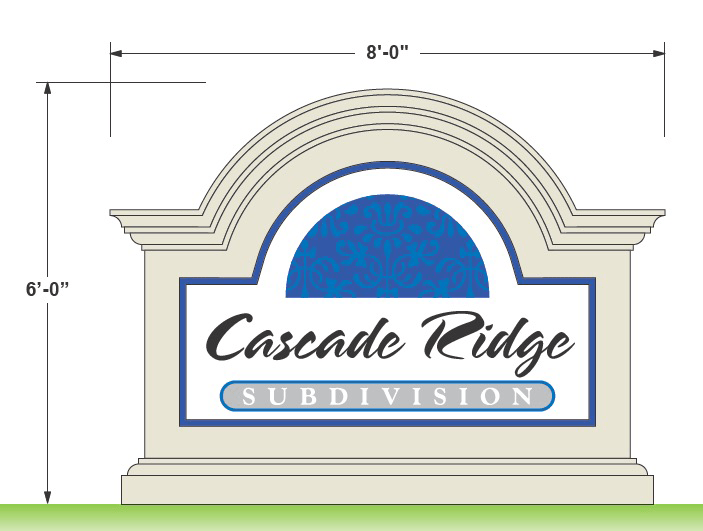 In this example, the community needed a modest-sized monument but the faux brick MUST match the leasing office the sign would be installed next to. They sent us a camera phone picture of the brick, and we matched it dead on. This example ran around $9k delivered with single sided graphics.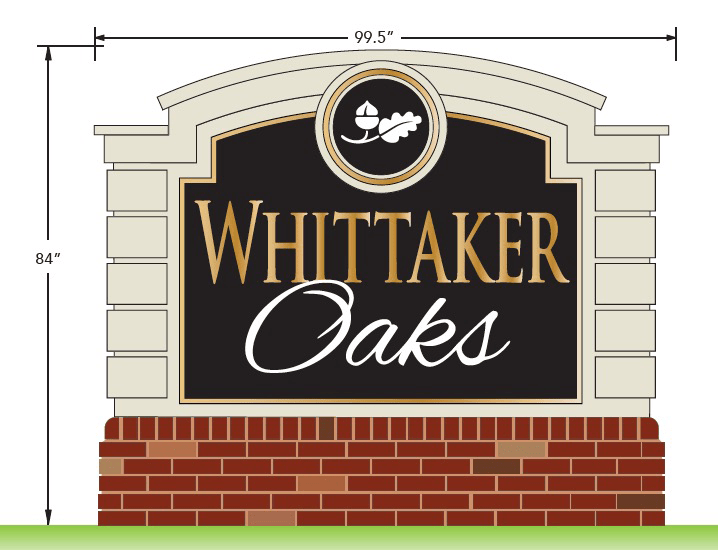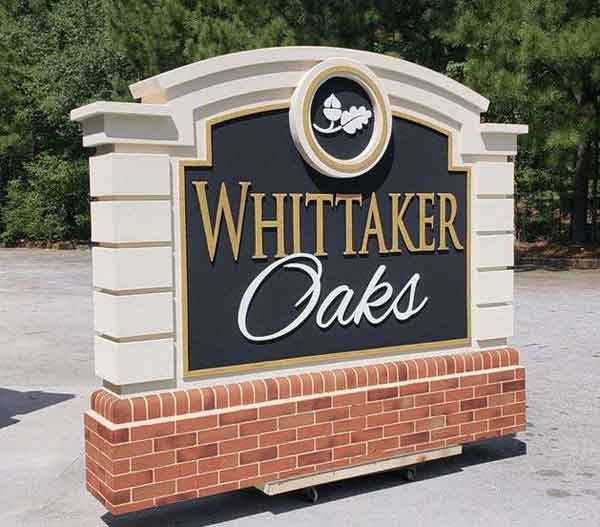 ---
Are you interested in a new sign? Get A Free Quote!
---
Call us toll free at (800) 735-7209 for your Sign Monument needs!
New construction is easy to design as there is nothing to match! We came up with this unique entrance sign monument and added additional 3-D embossed elements to the columns with double sided graphics for around $11k delivered.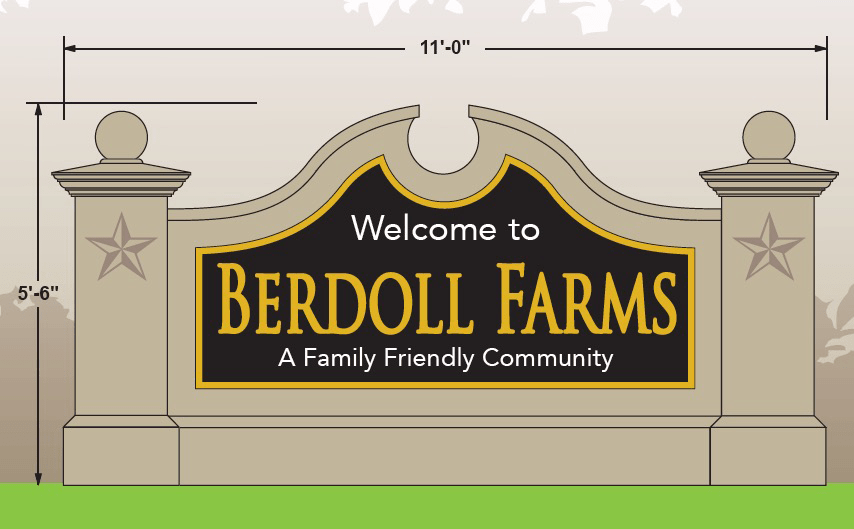 Many coastal communities like our signature 'wave' model design. This project ran around $9k delivered with double sided graphics.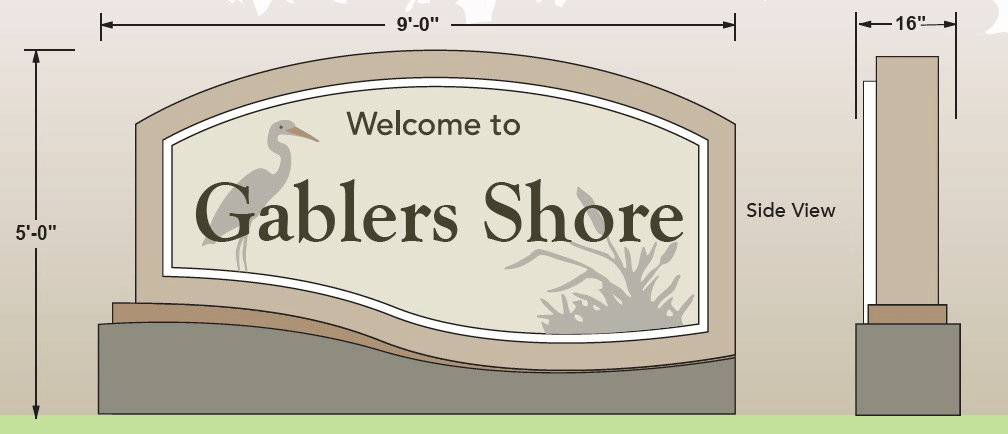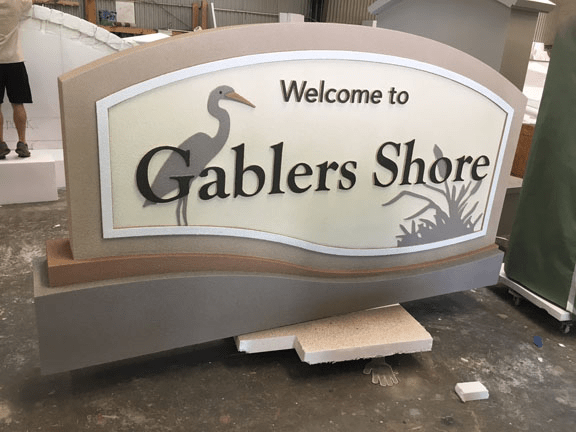 Can We Use Or Modify What We Have?
While every entrance sign monument is a 'new project,' we can of course integrate (recycle) any existing sign elements if at all possible to save costs. Send us photography of what you have on site, and we will gladly recommend any cost-saving options.
Install Yourself And Save!
While we can arrange for installation, we highly recommend doing it yourself as it is SO SIMPLE! You are saving by buying direct from the sign monument manufacturer, why not save more by installing yourself? This community HOA got together for a couple hours to plant this in place without a hitch:
---
Interested in beautifying your property? Get A Free Quote!
---
More About Neighborhood Entrance Sign Costs – This article will address most considerations before anyone purchases a new neighborhood (or even commercial development) main entrance sign.
We are often challenged with both commercial and residential property projects where the property developer or construction crew did not take into account the main entrance sign. It's the last item on a long list, but in many ways one of the most important as the main identity sign brands the development. Image is everything, and the main entrance sign defines how any retail or residential community looks in the community. This affects property resale values, rental or lease pricing – even the end-of-game closing price on any property.
Case One: Recycle Existing Signage
You have an existing sign marquee that was thrown together or is outdated. Example of a residential community entrance sign:
This sign had a wooden sandblasted sign (see this article about the issues with wooden signs), and the community felt it need an overhaul. Our solution was to update the structure with stucco top caps on the columns, and a new 3-D embossed sign plaque to replace the wood sign panel which had already deteriorated after only a few years. This was a cost effective solution that the HOA members easily installed themselves to save additional costs. Here is the final result of this re-vamped neighborhood entrance sign:
Case Two: New Neighborhood Signage
This customer had outdated wooden signs leading into their 55+ community. This coastal community needs a sign made in materials that not only withstand hurricane conditions, but also can withstand the daily abuse of light winds scraping sand across the material surfaces. Here is what this neighborhood entrance sign had:
And here is our solution – a complete replacement. Our product not only looks great, but will still look great for decades to come, even in the harsh environment.
Case Three: Start From Scratch
Do not fear approaching your neighborhood entrance sign project if you have nothing there to start. In most cases, this is the best case scenario for costs and longevity. If you will take the time to walk the property and take pictures on your cell phone of the housing architecture, any masonry elements you like, etc., you will be arming our design team with the tools necessary to design a neighborhood entrance sign monument that not only matches the development, but also looks as if it was constructed at the same time as the development.
---
Interested in a new neighborhood entrance sign? Get A Free Quote!
---
More About Neighborhood Entrance Sign Cost
Contact our Sales Team with your project info for a proposal. We'll make you look your BEST.
Our sign products arrive fully assembled, ready to position in place. We offer faux masonry such as brick and stone matching, embossed graphics that are vandal resistant, and other options such as:
We have fine-tuned every aspect of made-to-order sign monuments. You will be in touch with an experienced sign designer, seasoned in cost-effective solutions. We listen to your needs and deliver!
Our team will walk you through every stage, from design to installation, making the entire process simple and rewarding. We have sign monument examples in every climate imaginable, and are already set up as approved vendors in City Planning & Development Departments nationally, making Permitting a breeze. We are in fact the ONLY sign monument manufacturer that has yet to lose a single monument sign in ANY Gulf Coastal community in the past two decades' hurricanes!
Our team is a collaboration of artists with decades of experience in the dimensional signage and monument industry. Your project suited to your needs. We will provide you with the most dynamically designed signage solution. We will help you to brand the individuality of your company or property.
Our focus is to design, produce, and deliver the Best sign products.
Our goal is to make you look your Best, and to save you unnecessary expenses.
We offer personal service, creativity and value.
Custom monument signs provide a sense of distinction and permanence to your property. Our sign monuments are the style most desired and required by municipalities nationwide for an all over better looking community. With over (2) decades of nationwide success, we will make You Look Your Best!
We welcome any challenge in custom entrance sign monument designs, and can produce anything you can imagine! Please use our online contact form to start your next sign project. We look forward to working with you!