We Offer Custom Monument Sign Design Services
Leave it to the pros! For a fee, the design professionals at Best Sign Monuments will create custom design proofs to act as a foundation for your monument sign. The design proofs will act as a reliable roadmap for other contractors of your choice to manufacture or install your sign.
Some clients prefer to incorporate other professionals into the sign design process, as is sometimes the case with local contractors who may provide specialized services specific to your area. If you'd rather use your local contractor beyond the design stage, allow us to assist by designing your monument sign design proofs. We offer professional design proof services separate from our comprehensive sign design and manufacturing capabilities.
Allow our expertise to benefit your sign design
At Best Sign Monuments, we are specialists in designing monument signage that fits the scale of your location, the aesthetic of the space, and your business's brand. With expert attention to details and an advanced understanding of size, texture combinations, illumination, and more, our team is equipped to design the perfect monument sign for your space.
Our monument sign design services include proofs, which are an accurate representations of your custom monument signs and show the preliminary design of your signage. An extremely helpful feature of the design process, the design proofs will allow you to track the changes made to the design of your monument sign. The proofs note the precise measurements and materials being used, as well as the size, shape, and textures of the signage. We can even provide diagrams of concrete footers or the electrical workings if that is something you are interested in incorporating in your sign.
Before the exciting installation of your striking new sign, you will be tasked with the design itself. The design of a custom monument sign can be a daunting undertaking, especially if you are new to sign design. Even if you know where your sign will go, what colors you'd like to use, and even what logo and fonts you'd like to feature on it, there are still decisions like overall layout, scale, and the composition of materials to consider – not to mention the importance of thinking through electronic elements and the type of footing or mounting your sign will need. Before you begin feeling overwhelmed, give our experts a call!
Come to us with your early ideas and we will help you make them a reality! There are numerous design decisions that can easily be forgotten or overlooked, but fortunately our experts have years of practice creating beautiful monument signage that will last decades, and all of this is started with a design proof.
As arguably the most important stage of the sign production process, the signage design itself is what will ultimately make or break the final appearance of the monument sign. If done incorrectly or poorly, the entire process will be stalled in order to make last minute edits and changes. If you don't have the time to dedicate to the actual design itself, chances are you won't want to be bothered with having to redo or edit the sign design proofs if they aren't perfect the first go around. These headaches down the line can be easily prevented by utilizing sign experts from the beginning for the design stage at least.
Let the design burden fall to the experts
Before your monument signage ever reaches the manufacturing stage, you'll need to dedicate time to the actual design of the signage. If you're wondering how to begin, look no further! Design proofs for your custom monument sign will show the concept for your monument sign to all who are helping in the production of your signage.
This important part of the process is something we at Best Sign Monuments love to do for our clients, and we provide this service separately from our complete sign manufacturing services for a fee.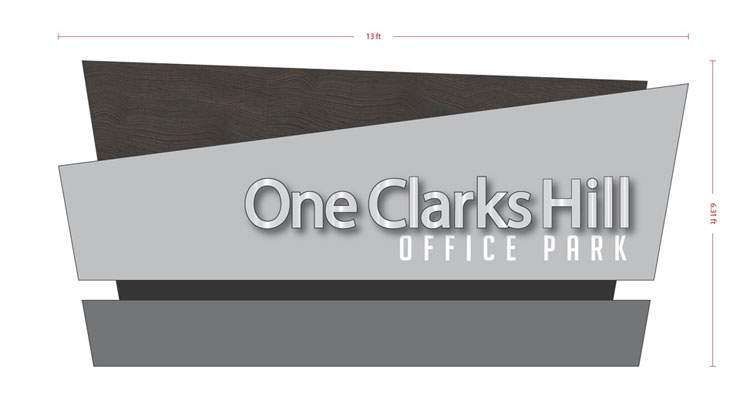 Turning this aspect of the sign design process over to professionals will allow you to rid yourself of the pressure about how the final product will turn out.
The sign proof or rendering will accurately depict what the sign will look like once manufactured and installed. The goal of this proof is to prevent any costly errors in the actual manufacture of the sign, as well as provide a helpful guide for all contractors involved.
Design proof or sign concept development services are perfect for customers who prefer to have someone else help with the other aspects of their sign design, like a local contractor.
Leave the details to us!
Every detail counts when it comes to something as permanent as your business or residential monument sign. Not only will you and your customers see your custom monument signage every day, but you will also want to keep it for years to come. This means that you'll want the design to stay current and timeless for decades.
If you are wanting to incorporate other elements into your sign, like illuminated displays, or want to make sure the mounting of your sign is planned out before the installation, we will also be happy to include these details into the design proofs.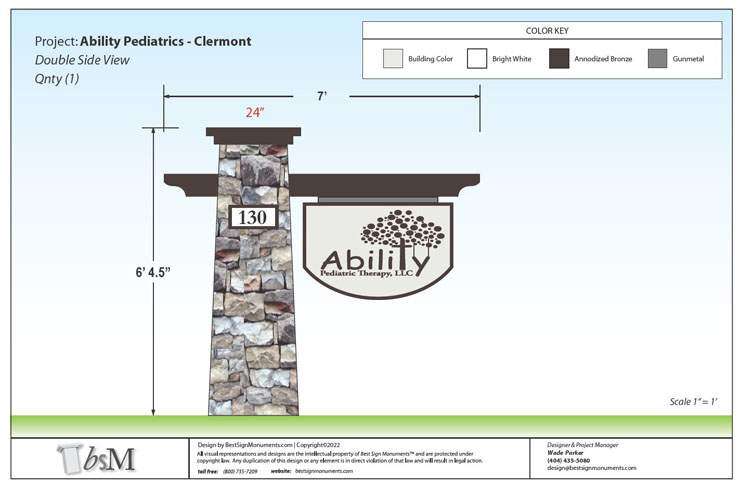 The footing for your sign is what will give the entire monument support, and it is important to consider the correct type of footer you will need based off of the size of your sign and where it will be located. There might be a separate slab and foundation contractor in your area you will opt to use instead for the footer of your monument sign, but including this detail in the design proof will give them a head start as well as ensure that all elements of the sign work together cohesively by having the entire design created in one place.
It is also important to consider the electrical ramifications that certain illumination or digital features will pose. Our design proofs will even include the electrical details so you will know exactly how your lighting will be powered. Get the best Monument Sign Design Services from the best sign monument manufacturer – nationally.
We will take note of your wishes and considerations before beginning the design proof, and create a proof for your custom signage that will allow the entire process to go smoothly from start to finish. This takes the burden of the sign design off of your hands while also providing a helpful roadmap for your contractors.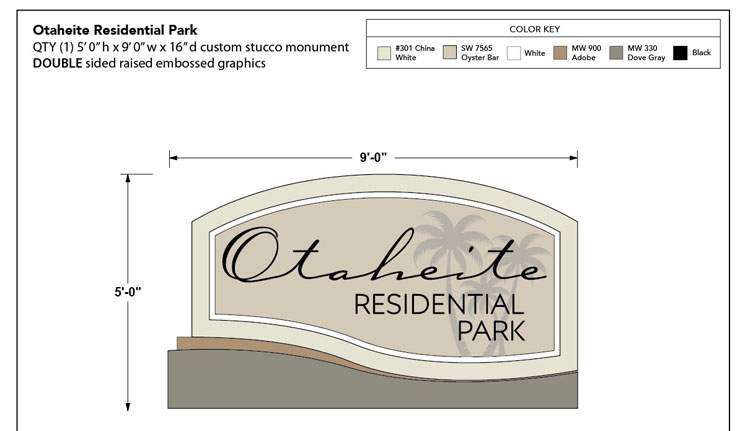 We understand how frustrating and difficult it can be to coordinate a number of people who might all be working with separate plans. This can be avoided and the process can be streamlined by providing your contractors with a proof that will work for everyone. We can include electrical diagrams and consider the type of concrete footer your monument signage will require. The proof will easily be able to be passed around to everyone working on the sign.
By having a solid foundation that can be used by everyone involved, you will simplify the entire process.
Check out our 16 page completed sign monument portfolio with hundreds of completed sign examples!
Our team is a collaboration of artists with decades of experience in the dimensional signage and sign monument industry. Your project will be designed and suited to your needs. Let us brand the individuality of your company or property.
---
Are you interested in an award winning design for your new project? Get A Free Quote!
---
Our sign products arrive fully assembled, ready to position in place.
Our focus is to design, produce, and deliver the Best sign products.
Our goal is to make you look your Best, and to save you unnecessary expenses.
We offer personal service, creativity and value.
Our custom sign solutions provide a sense of distinction. With over (2) decades of nationwide success, we will make You Look Your Best!