Why Are We The Best?
Traditional construction requires an architectural designer, a general contractor (G.C.) to then manage a local masonry vendor, a sign contractor and even an electrician to complete a sign monument project. The costs add up quickly.
Our Sign Solutions work with any of your needs: Designed - Produced - Delivered to your location.
This is a typical sign monument project. This Home Owners Association (HOA) was looking to replace a traditional sandblasted wood sign with a modern solution that would last for decades.
Sandblasted wooden signs will eventually fail. Wood is a product of nature, and expands and contracts with the seasons. There is not (and never will be) a way to prime and paint wood to prevent stress on a paint finish. Our solution is a product that does not expand nor contract, and will provide a lifetime of beauty.
We service City Municipalities, Commercial Developments, Residential Properties - you name it! Here is an example of our work before leaving our docks: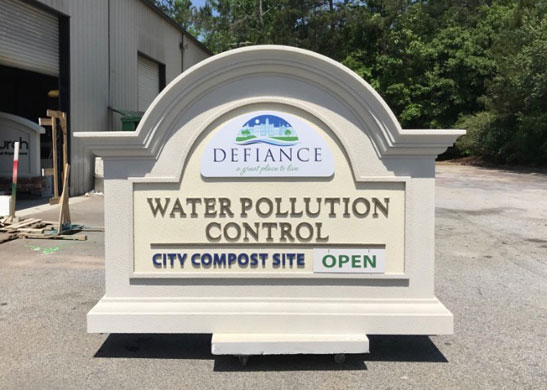 Our services include the best value for your budget. Send us photography of your existing signage and let our team of sign experts offer a cost-effective solution to make your sign project demand attention.
Here is an example of a community HOA that wanted to make their entrance sign monument more modern. Here is the before picture of what existed:
And here is the after picture for this residential community entrance sign with our signage solution, easily installed by a member of the HOA Board.
Here is an example of a business property owner with space to lease. Here is the before picture of what existed:
Here is the after picture for his commercial property. The tenant plaques are designed for easy change and minimal costs.
Our team of specialists include designers and fabricators that work together under one roof, and are familiar with each stage of production. This means our Best Sign Monument solutions will minimize production costs for maximum results. You will work directly with a Project Designer that knows how to:
Design a sign monument that complements your facility.
Integrate faux masonry to further accent your facility.
Add graphics to match (or design new) branding.
Provide lighting solutions or suggestions (if required).
Coordinate delivery to job site.
Work with local installer (to simplify installation).
Let us know your needs and we will offer our expertise in a cost-effective signage solution. We will gladly walk you through the entire process.
---
---
---
Monument Models

Need Ideas? See some.
See the Standard Sign Model Designs and more.

See Our Work

Examples? We have many.
Look at numerous pictures of completed sign projects.

Get A Quote

Questions? Get answers.
Complete our online form to receive a free quote.
---
The Best Sign Monuments require the Best solutions. Our focus is to offer a painless, one-stop source for your new sign monument project needs. Our goal is to make you look your Best, and to save you unnecessary expenses. And Yes, we deliver to any job site in the continental United States.
Feel free to browse our Online Portfolio to see hundreds of examples of our work. You are welcome to complete our Online Contact Form to initiate the process of receiving your complementary consultation.

Check out our Sign Photo Collage Gallery which includes hundreds of examples of signage projects we have designed and produced over the years!
---