Ground light signs are a cost effective solution to bring attention to your entrance. This applies to both commercial and residential communities.
This is the sign monument design we developed for an Insurance Agency:
Our monument sign design complements the architecture of the new facility construction. The building contractor fabricated a brick base in the same masonry as the building, leaving three exposed steel pipes (we provided) into the base. Here is a picture of the monument being lifted into place: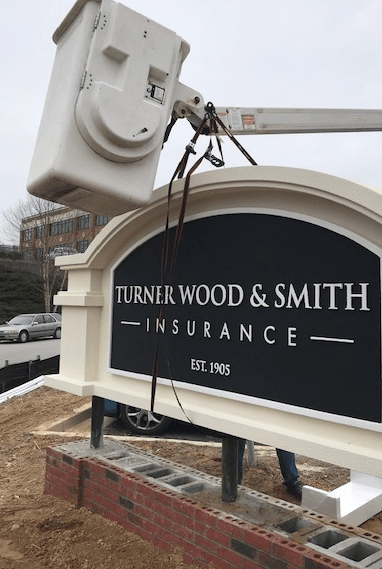 The entire process was simple as we worked with the on-site team to make certain the materials and dimensions matched. We provide this service nationally, and speak all contractor lingo.
Ground lighted signs are a cost-effective solution to advertise any business or community, and is a cheaper solution to integrating lighting into the actual sign monument.
Here is a day time view of this sign monument project:
And here is a night time view using standard commercial exterior ground lighting fixtures available at your local hardware store:
Our team is a collaboration of artists with decades of experience in the dimensional signage and sign monument industry. Your project will be designed and suited to your needs. Let us brand the individuality of your company or property.
---
Are you interested in spiffing up your lobby or business exterior? Get A Free Quote!
---
Our focus is to design, produce, and deliver the Best sign products.
Our goal is to make you look your Best, and to save you unnecessary expenses.
We offer personal service, creativity and value.
Custom ground lighted signs provide a sense of distinction. Our sign monuments are the style most desired and required by municipalities nationwide. With over (2) decades of nationwide success, we will make You Look Your Best!
---
Are you interested in a new sign? Get A Free Quote!
---
Call us toll free at (800) 735-7209 for your Sign Monument needs!