Welcome To The Design Studio!
Image is everything in today's world. When someone enters your facility or community, what is the image you present?
The design stage of your monument project may be as simple as designing an entrance that matches an existing color scheme for a building, or as complex as using different effects to create a custom look for a particular situation. Best Sign Monuments offers professional design services for your new image package. Our staff of designers work together with you from start to finish on every project.
If you are looking for impact, attention, or a means to best represent your image, feel free to join in the design process! Our designers will listen to your input in order to incorporate your ideas into the final layout. We have a vast knowledge of what color, shape, and texture combinations work well. This means our design team is familiar with the materials, and know what can and can not be created.
Note: You will be allowed to upload photography or your design concept sketches during the Request Estimate process.
This is a typical example of our services. An Insurance Agency in a Historical District requested we design and produce a sign monument that complemented the architecture of their new facility. After reviewing the architectural plans, our Design Team came up with the following solution:
We then fabricated the sign monument and delivered to the job site. Here is a day time view of the sign monument project after installation: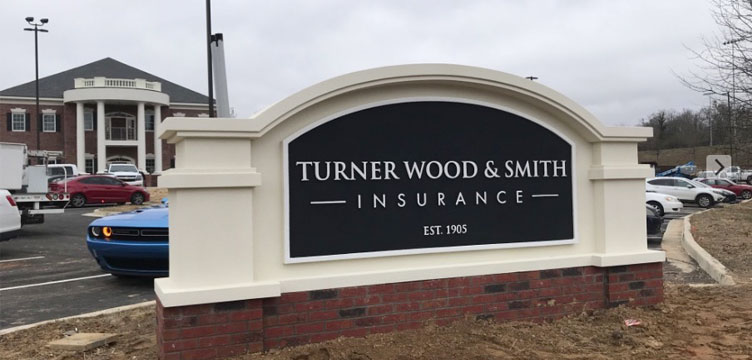 We recommended LED ground light fixtures to illuminate the signage. Here is a night time view:
---
Here is how our custom sign design service works...
Step One: Client Supplied Rough Sketch With Content >
Be sure to include ALL content you wish incorporated in your design. Indicate any logo or picture elements as well. Indicate any color combinations or font styles as well. The more input you provide the better we may serve you. Your personal Designer will bring attention to any potential issues and resolve them up front top make the sign design process both fun and painless! Here is an example of a client supplied sketch: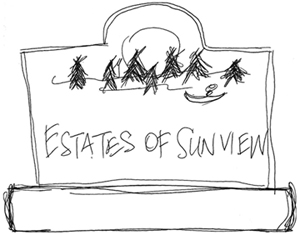 ---
Step Two: Our Designers Create Your Sign Layout >
You will receive an email with the design(s) attached for your project proof like this:
---
Step Three: Approval & Start Production >
We will be happy to make any changes to your signage design before we start the sign production process. Should you want the original sign project design files (common for commercial printing, silk-screening, web and accounting based systems, etc.) your sign artist will provide the files as a Master CD-ROM OR store all your native files on our MULTIPLEMEDIA.NET Client Server which you may access and download at any time in the future.
The same sign monument installed as seen on Google Earth Street View after installation:
Please ask your sales representative of the numerous advantages and disadvantages of specific material combinations, fabrication styles, and to to help determine if your project is optimized.
---
Add An Electronic LED To Your Sign Monument >
We offer high-resolution, full-color electronic LED (Light Emitting Diode) message boards. You can buy the LED cabinets by themselves to mount to your existing sign structure or facade, or we can integrate the LED panels into you new sign monument project.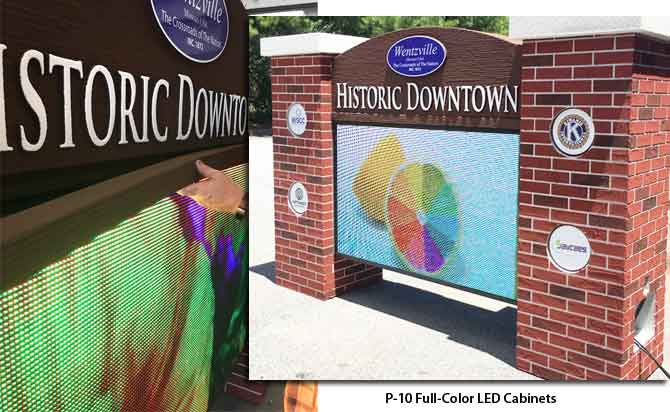 Our LED message boards include:
Plug in and play solution!
P-10 (pitch 10 millimeters between pixels) resolution, which is better than most in the field (P-16).
Full-color graphics that use any font, graphic, or animation.
Dual-side cabinets can be wired for independent graphics, meaning two messages running each way.
Software controlled brightness, timer, time temp sensor - all bells and whistles included.
Cabinet sizes made to order to fit your needs.
New laptop with controller software and TeamViewer for remote access training and technical support.
24-7 technical support.
Made in the USA.
Like our sign monuments, we offer the Best solution in electronic LED panels, and at a savings. Complete our Contact Form to request a quote on your upcoming LED sign project.
---
One Stop Sign Monument Source - Start To Finish >
We have developed a system of designing, producing, and delivering custom sign monument solutions. Our team has the best sign designers in the dimensional signage industry. Here is a screenshot of a project as it's designed, along with a picture of the final results. This customer requested a temporary reader-board until budget allows for an electronic LED cabinet:
Our team of specialists include designers and fabricators that work together under one roof, and are experienced professionals in each stage of production. This means our Best Sign Monument solutions will minimize production costs for maximum results. You will work directly with a Project Designer that knows how to:
Design a sign monument that complements your facility or community.
Integrate faux masonry to further accent your facility or community.
Add graphics to match (or design new) branding.
Provide lighting solutions or suggestions (if required).
Coordinate delivery to job site.
Walk you through installation.
The image below illustrates how the ordering process works. First, we listen to your needs and provide a detailed Design for your approval. Next, we produce your project and provide detailed photography of the completed product before we crate and ship. This ensures you receive exactly what you have in mind, and we welcome any changes you want before your project leaves our factory floor.
---
Another Sign Monument Design Example >
---
Recycle & Revamp Your Outdated Sign Monuments >
Let our years of experience help save your money. Provide our Design Team with photography of existing signage you have in place. After a few question, we will be able to let you know if there are any cost savings in recycling any portions of what you have, or starting from scratch. Here is an example of a 1980's community entrance we re-vamped by bringing the design up to date without complete demolition and replacement:
---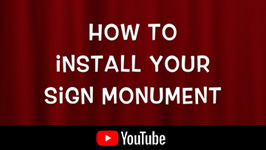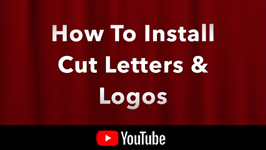 Watch our YouTube Video to see how easy it is to install your new architectural sign monument
or individual routed letters & logos!
---
---
Monument Models

Need Ideas? See some.
See the Standard Sign Model Designs and more.

See Our Work

Examples? We have many.
Look at numerous pictures of completed sign projects.

Get A Quote

Questions? Get answers.
Complete our online form to receive a free quote.
---
The Best Sign Monuments require the Best solutions. Our focus is to offer a painless, one-stop source for your new sign monument project needs. Our goal is to make you look your Best, and to save you unnecessary expenses. And Yes, we deliver to any job site in the continental United States.
Feel free to browse our Online Portfolio to see hundreds of examples of our work. You are welcome to complete our Online Contact Form to initiate the process of receiving your complementary consultation.

Check out our Sign Photo Collage Gallery which includes hundreds of examples of signage projects we have designed and produced over the years!
---