We design, produce and deliver custom sign monuments for the funeral home and mortuary industry.
We are based in Atlanta, and we service nationally. All of our materials and fabrication are made in our United States. We are also a Veteran Owned Business.
Send us a picture of your facility, and we will custom design a new sign monument that will complement your facility and your community.
Here is an example of a funeral home sign recently completed.
Here is the design concept: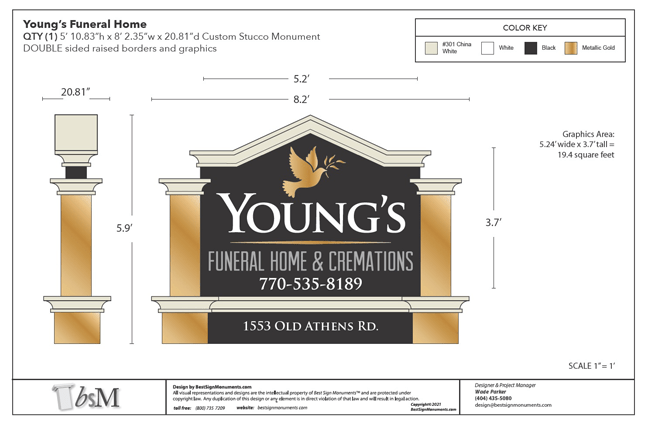 This customer requested in-progress photography while the project was in production. No problem!
We always send completed photography of our sign monument projects for approval BEFORE we crate and ship. Here is the photo of the completed project on our production floor for customer approval:
Here is the completed Young's Funeral Home business sign after installation:
How to get started
Best Sign Monuments is ready to partner with you to help enhance the look and feel of your funeral home facility. By working with our expert designers, you will have full capability to customize all of your mortuary signage completely.
At Best Sign Monuments, we promise to deliver products that live up to our name. We use only the best materials and employ only the best designers. For the quality you will receive, we offer the best pricing. We treat each project as if we were paying for it ourselves.
---
Are you interested in a quality sign for your funeral home business? Get A Free Quote!
---
Call us toll free at (800) 735-7209 for your Sign Monument needs!
Our sign products arrive fully assembled, ready to position in place. We offer faux masonry such as brick and stone matching, embossed graphics that are vandal resistant, and other options such as:
We have fine-tuned every aspect of made-to-order custom sign monuments. You will be in touch with an experienced sign designer, seasoned in cost-effective solutions. We listen to your needs, and deliver results.
Our team will walk you through every stage, from design to installation, making the entire process simple and rewarding. We have sign monument examples in every climate imaginable, and are already set up as approved vendors in City Planning & Development Departments nationally.
Our team is a collaboration of artists with decades of experience in the dimensional signage and monument industry. Your project suited to your needs. We will provide you with the most dynamically designed signage solution.
---
Our focus is to design, produce, and deliver the Best sign products.
Our goal is to make you look your Best, and to save you unnecessary expenses.
We offer personal service, creativity and value.
---
Our custom funeral home sign monuments provide a sense of distinction and permanence to your business AND your community. In short, we will make You Look Your Best!
We welcome any challenge in custom sign monument designs, and can produce anything you can imagine! Please use our online contact form to start your next sign project. We look forward to working with you!