You Deserve The Best Sign Monument Solution!
If you are in the market for an impressive dimensional sign that demands attention, you have found the Best that the sign industry has to offer. Our goal is simple - to provide the most cost-effective signage solutions for your needs. We offer any shape, any graphic designs, color matching, faux masonry, integrated lighting with daylight sensors - even computer programmed electronic message boards. We are in the business of making You look your Best.
This coastal community requested an entrance sign monument with faux wood beams and faux iron hardware.
---
Each sign monument project is made to order. We will listen to your needs, and provide a custom sign solution. We deliver to any location in the country. Want to know what to expect and pricing? Read our article on entrance sign costs.
By combining our knowledge in the construction industry with our graphic design talents, we have developed the perfect sign solution for both commercial and residential monument signage applications! Simply put, we love what we do.
Modern Design for Church Sign Monument with Faux Stone, Logo and 3-D Raised Graphics.
---
Our custom stucco sign monuments are designed to tailor any need. Examples include monument signs with changeable tenant panels, church identity monuments, school and educational facility sign structures, business park entrance monuments, monument signage with changeable reader boards, electronic LED panels - you name it!
And be sure to check our our client list of national property developers and property management companies.
An example of a Hone Owners Association collaboration for the neighbor entrance sign monument.
---
We make each sign project to order. We listed to your needs. Our designers take into consideration factors such as setback from traffic, height restrictions in the municipality, and maximize the allowable square footage of graphics. We can also incorporate faux masonry that complements your facility, or even match rock that is native in your area. This is a City roundabout Sign with faux native rock:
City Entrance Sign Monument with Faux Wood Beams and Faux Stone Sign Base.
---
Giving your community or township a unified appearance is a must! Welcome your new visitors with a great first impression. We offer timeless sign designs and signage solutions that last, and that demand attention. We also design entire communities, municipality and township packages with a unified theme. A consistent visual appearance speak columns to your community and visitors passing through.
One of the sign monuments in this package has integrated changeable aluminum panels so graphics can change easily and inexpensively.
---
HOA's (Home Owners Associations) love working with us directly. We provide designs based on your design requirements, and deliver a product that is easy to install, and at a great savings.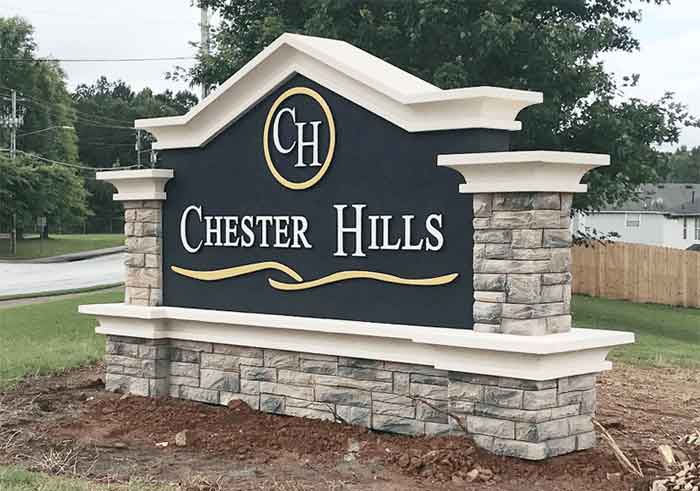 We design, produce and deliver our architectural sign monument structures nationally. If you are a property developer, a commercial business owner, or represent a residential community, you have found the perfect one-stop sign solution. Our team will walk you through the entire process of ordering a new entrance sign monument.
---
City of Wentzville, MO Historic District Message Board Sign Monuments. The faux brick columns have recessed areas and dedication plaques for the sponsors (local businesses) who made the project happen. The electronic LED boards full-color with wi-fi control access. Unlimited fonts, pictures -they even accept common movie formats and animation!
---
Here are some typical applications which require our custom Stucco Monument Signs:
---
We have fine-tuned every aspect of made-to-order signage. You will be in touch with an experienced sign designer, seasoned in cost-effective solutions. We listen to your needs, and we deliver results!
Our team will walk you through every stage from design to delivery. We make the entire process simple as possible. We have sign monument examples in every climate imaginable, and have yet to have lost a monument in the past (27) years coastal hurricanes in the USA.
---
Watch the animation below to see how we have made the process of buying the best sign monuments SIMPLE!
---
To start your project, please check out the Sign Monument Portfolio section of this site. It contains HUNDREDS of our real-life completed monument sign projects. Next, check out our Standard Monument Models and see if you like any of the designs.
A collection of sign monuments for all entrances to the City of Reidsville and a custom sign monument with faux block stone for a funeral home.
---
The final step is to complete our online Contact Form to request a complementary consultation for your sign monument project. Feel free to reference ANY sign monument project example (by name) that you think complements your development when requesting an Estimate. The more information you provide, the better we can assist your needs.
This business sign monument designed as a faux stone column and cross-member.
The projecting sign arm has a double sided, suspended sign panel that will never move in the wind.
---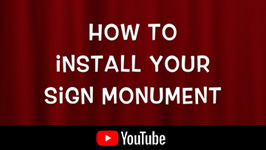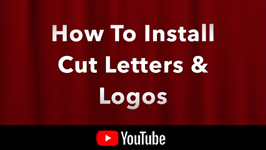 Watch our YouTube Video to see how easy it is to install your new architectural sign monument
or individual routed letters & logos!
---
Check out these quick-links to view many different applications of our signage and sign solutions:
We welcome the opportunity to hear from you, and listen to your needs. Tell us everything about your project! Is it a new business model, or how old is your development? What is the architectural style of the facilities? The more information you provide, the better we can service your needs. This info will allow us to design a unique, timeless sign monument solution that will make you look fantastic.
---
We produce outdoor (and indoor) sign letters at any size and in any font.
We also offer sign letters in any finish with color matching, including clear letters, and metallic finishes. We also offer letters with back-lighting!
---
Modern signs are our specialty. We can combine faux wood grain patterns for Any wood and in any finish. We also make faux stone and brick!
---
We design, produce and deliver - nationally. If you are a property developer, a commercial business owner, or represent a residential community, we are your new best friend! We will walk you through the entire process.
These sign monuments are for the City of Stigler, OK entrances. The units have integrated energy-efficient, waterproof lighting, and the faux sandstone and cut-block stone finishes complement native rock in the area. We integrated embossed City Logos into the faux rock columns.
---
This is a popular subdivision entrance sign monument model.
The Homeowner Association teamed together to do the installation themselves. The savings allowed them to get a bigger sign!
---
Our business model is to provide a simple solution to your project. Your entrance sign is the first impression. We will help bring your community together.
---
Monument Models

Need Ideas? See some.
See the Standard Sign Model Designs and more.

See Our Work

Examples? We have many.
Look at numerous pictures of completed sign projects.

Get A Quote

Questions? Get answers.
Complete our online form to receive a free quote.
---
Our team is a collaboration of artists with decades of experience in the dimensional signage and monument industry. Your project suited to your needs. We will provide you with the most dynamically designed signage solution. We will help you to brand the individuality of your company or property.
Our focus is to design, produce, and deliver the Best sign products.
Our goal is to make you look your Best, and to save you unnecessary expenses.
We offer personal service, creativity and value.
Custom monument signs provide a sense of distinction and permanence to your property. Our sign monuments are the style most desired and required by municipalities nationwide for an all over better looking community. With over (2) decades of nationwide success, we will make You Look Your Best!

Check out our Sign Photo Collage Gallery which includes hundreds of examples of signage projects we have designed and produced over the years!
---