The Design Studio - Faux Masonry.
We have developed the technology and artistry to custom faux match any masonry pattern from a digital photo. This allows the ability for us to add faux masonry to your custom sign monument. If there are masonry elements or accents on your building that need to match on your new monument, we can make it happen. Keep in mind, we can mix and combine brick and stone patterns on any portions of your architectural sign structure.
Here are some typical examples of our faux masonry options for our made-to-order custom sign monuments:
| | | |
| --- | --- | --- |
| | | |
| Faux Hand-Tooled Slab Stone | Faux Hand-Cut Old-World Brick | Faux Block Chiseled Sandstone |
| | | |
| --- | --- | --- |
| | | |
| Faux Rough-Cut Brick | Faux Chiseled River Rock | Faux Mixed Chunky Block Stone |
| | | |
| --- | --- | --- |
| | | |
| Faux Mixed Brick | Faux Block Stone | Faux Block Stone with Mortar |
| | | |
| --- | --- | --- |
| | | |
| Faux Old-World Brick | Faux Dark Grout Brick | Faux Castle Stone |
| | | |
| --- | --- | --- |
| | | |
| Faux Random With Grout | Faux Random Block No Grout | Faux Old-World Hand-Made Brick |
| | | |
| --- | --- | --- |
| | | |
| Faux Chiseled Granite | Faux Wavy Flagstone | Faux Small Riverstone |
| | | |
| --- | --- | --- |
| | | |
| Faux Mixed Color Granite Mixed Pattern | Faux Chunky Big Grout | Faux Street Stone No Grout |
| | | |
| --- | --- | --- |
| | | |
| Faux Flat Block Chiseled Granite | Faux Random Brick | Faux Flat River Stone |
---
---
---
We wrap our faux masonry around corners for the most realistic appearance in faux. Here are a couple of examples of our faux masonry at a side view so you can see how great it looks:
| | | |
| --- | --- | --- |
| | | |
| Faux Flat Rock Corner Wrap | | Faux Castle Rock Corner Wrap |
---
Faux masonry is an additional option applied to the stucco top-coat. This requires additional material and labor, hence the additional costs. Faux masonry is the perfect solution when you need to match the existing brick or stone pattern on your facility, especially if the property developer didn't leave materials or take into account the need for a sign structure after completing the development.
Each order is made to order at its own piece of art with the focus to complement the architecture and environment of your location. We can match any color scheme (brick color pattern, mortar color, or stucco color) by paint manufacturer batch code, and our faux masonry experts match any existing masonry on your property by digital photo or physical sample if you want a dead-on match. We welcome any challenge in faux!
---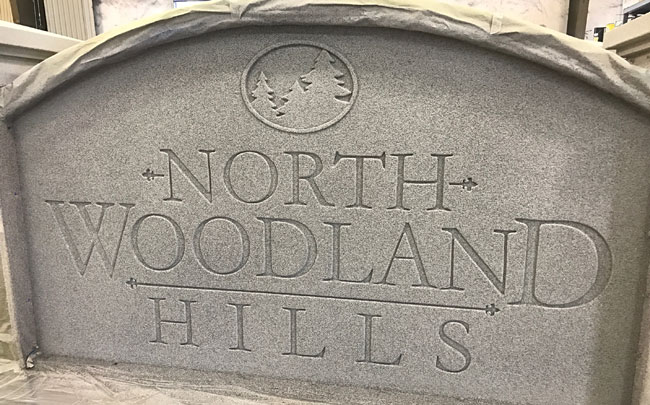 This is a faux granite finish to look like embossed granite. The letters are recessed, the logo embossed up and all sprayed with a uniform coat of stone aggregate.
---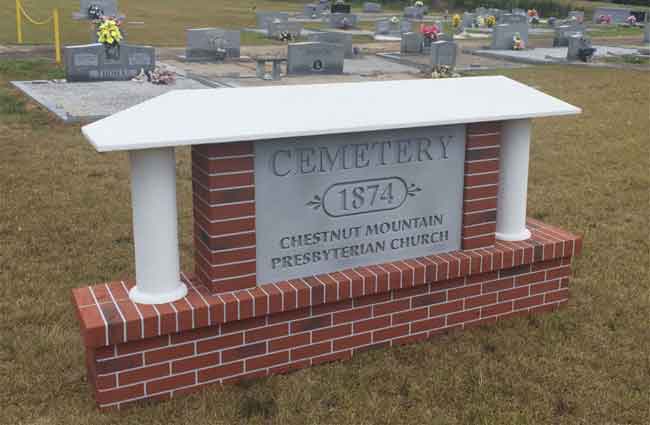 This is a cemetery sign monument with faux brick to match the church. We faux matched the cemetery granite tombstones for the central graphics, and added stucco columns and a stucco roof line cap to match the church's architecture.
---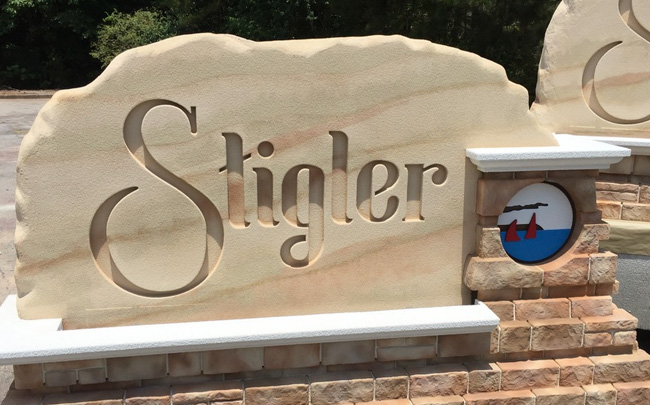 These sign monuments have faux sandstone panels with hand-tooled chunk edges and embossed graphics. The base and column are faux block stone finished to complement native rocks in the area. We recessed the City Log on the columns.
---
Faux is better than what you think. We encourage you to see a sample in hand.
We have samples of selections of faux brick and stone in stock. You may purchase a stock sample, or even order a custom sample made from your supplied photo. We will ship the sample to you for your review and to share with your HOA board, improvement committee or community at large. This gives you an opportunity to truly inspect the quality construction of our product, and our ability to fabricate and match your masonry in faux.
We will require you to purchase the sample. We will credit the sample cost and shipping in full off the balance of your order. Ask your sales representative for more details.
Keep in mind we can match Any existing masonry pattern - Stone, Concrete, Brick - Your Choice!
Our monument solutions are designed to match your needs. We are more cost-effective than hiring a local contractor for the monument, a local mason (if your monument has faux masonry), a sign shop for the graphics and an electrician (if your monument has lighting).
---
---
Monument Models

Need Ideas? See some.
See the Standard Sign Model Designs and more.

See Our Work

Examples? We have many.
Look at numerous pictures of completed sign projects.

Get A Quote

Questions? Get answers.
Complete our online form to receive a free quote.
---
The Best Sign Monuments require the Best solutions. Our focus is to offer a painless, direct source for your new sign monument project needs. Our goal is to make you look your Best, and to save you unnecessary expenses. And Yes, we deliver to any job site in the continental United States.
Feel free to browse our Online Portfolio to see hundreds of examples of our work. You are welcome to complete our Online Contact Form to initiate the process of receiving your complementary consultation.

Check out our Sign Photo Collage Gallery which includes hundreds of examples of signage projects we have designed and produced over the years!
---