National Standard Stucco Colors.
The final step in our production process is the stucco top-coat. We are unique in that we mix the tint of the final stucco top coat layer versus painting on top of the stucco. This allows the same color to show through after damage from landscapers & such when trimming around the monument base. We also include containers of tinted stucco for touch-up, just in case.
We are authorized representatives for both MasterWall and Dryvit Stucco Systems, the two nationally accredited stucco manufacturers. We offer any standard color by both manufacturers. You can download the standard Color Charts Below.
| | |
| --- | --- |
| | |
| Select the image above, or right-click to download. | Select the image above, or right-click to download. |
---
Sign Industry Color Charts.
We are authorized representatives for both 1Shot! and Matthews Paint Systems, which are the Sign Industry leaders in high-performance sign enamels and finishes. We can also custom color match by a physical swatch, including Pantone Colors (within a slight degree of accuracy).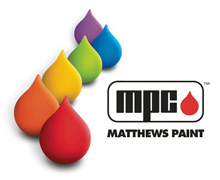 We offer the Matthews Paint System Commercial Sign Finishes.
We offer the 1Shot! Family of Professional Sign Enamels.
---
Consumer Industry Color Charts.
If you have a specific paint color in mind, we can color match portions (even in combination) of your sign project by paint manufacturer batch codes. The most common consumer paint manufacturers are (click image to go to manufacturer web site color palettes):
So in short, we can match any color you like, and in a variety of commercial-grade finishes that will last in any environment. We take the longevity of your project into account, and will offer the BEST low-maintenance finishes available in any Industry.
---
---
Monument Models

Need Ideas? See some.
See the Standard Sign Model Designs and more.

See Our Work

Examples? We have many.
Look at numerous pictures of completed sign projects.

Get A Quote

Questions? Get answers.
Complete our online form to receive a free quote.
---
The Best Sign Monuments require the Best solutions. Our focus is to offer a painless, one-stop source for your new sign monument project needs. Our goal is to make you look your Best, and to save you unnecessary expenses. And Yes, we deliver to any job site in the continental United States.
Feel free to browse our Online Portfolio to see hundreds of examples of our work. You are welcome to complete our Online Contact Form to initiate the process of receiving your complementary consultation.

Check out our Sign Photo Collage Gallery which includes hundreds of examples of signage projects we have designed and produced over the years!
---