Signage is an investment. Custom wood signs do not last. Your sign represents your image, and you need to consider the long-term affects of how you look.
Traditionally, signs were made from wood, or a wood by-product. Such examples include:
Redwood – tradition material used in sandblasting wooden signs. For decades, old-growth redwood hasn't been allowed to be harvested.
Cedar – the alternative to old-growth redwood. Clear-grade heart (center of the tree) cedar gives a lesser grain pattern to old-growth redwood.
Soft-Wood – Pine, poplar, balsa, etc. are easy to sandblast but do not give the grain pattern relief for dimensional effects, and are not materials that last outdoors.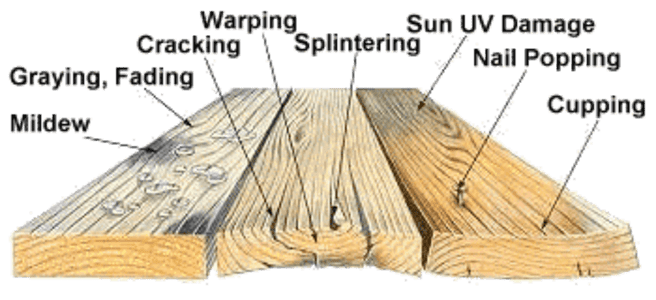 It's common sense – wood is a product of nature and has no predictable longevity. When considering different areas have different climates that effect the expansion and contraction of natural wood, why would you want wood as the material for your expensive sign? Ask yourself – how often does the exterior of a wood faced house last before requiring repainting?
It is misleading to tell people that there is ANY commercial grade primer and top-coat finish, in any paint industry from local paint franchises to commercial grade sign enamels, that will prevent or protect wood from deteriorating from expansion and contraction. It's simply a matter of time before it fails.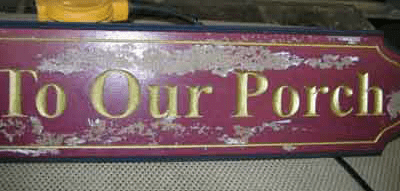 While you may receive a wood sign that is primed and painted, keep in mind that the finishing system is compromised when you screw through it to mount to posts or your facade, thereby exposing the material to the elements.
There are other products that sign shops offer to reduce the wood failure. While these are cost-effective for the sign producer, they still fail. MDO (marine grade plywood) is a common wood product offered in commercial franchise sign shops. MDO is basically plywood. MDO does offer structural strength of cross-grain laminate layers like typical plywood, but instead of wood glue, MDO uses a fiberglass-style resin. Again, this wood product will fail in a matter of a few years.
Another wood substitute is High Density Urethane, or HDU. HDU is a synthetic wood product and is available in different densities and thicknesses. A typical HDU application is on a front entrance monument in brick masonry at 1.5″ thick and 15 pound (per cubic foot) density. HDU can be CNC routed or sandblasted in a variety of dimensional effects. HDU does not expand or contract, so the primer and top-coat finishes will typically last longer. HDU is a great product solution for exterior commercial grade signage. There is however an issue… HDU being a synthetic material has no natural grain structure for strength but rather is an open-cell foam product. This means it's easy to break. A 2″ thick HDU sign between posts can be snapped in half easily.

The solution for signage substrate is a combination of more current technologies and finishes. Our Best Sign Monuments are made to order, not stock sheets of material pulled off a shelf. This means if you want a sign that will last the test of time, our product can be made (for example) to mount between posts at any thickness required. We can easily produce an 8″ thick sign on 12″ diameter posts that will not expand, contract, or snap on impact. Or better yet, for stand-alone solutions, a sign monument as an architectural form:

For more information on how our product is made, visit the how they are made section of our web site. To request a free quote on your next sign project, complete our online contact form with as many details as you can provide. Be sure to include a picture of the intended sign location, or even a rough sketch of what you have in mind with your quote request.
Our experienced sales team and award winning designers will be certain to come up with a cost effective solution that will impress, and protect your long-term investment.
---
Are you interested in a new sign that will last? Get A Free Quote!
---
Call us toll free at (800) 735-7209 for your Sign Monument needs!