How The Best Architectural Sign Monuments Are Made.
If you are looking for a long lasting one-stop sign solution, you have found the right place.
Signage is an art that is typically a last thought effort. This to us is heartbreaking, as signage is the first impression YOU can make.
If you have landed on this page, you are most likely in the following situations:
Residential signs - Your new residential community requires a new sign monument, or your established community has an outdated entrance sign that needs to be re-vamped if not replaced.
Commercial property - Your business or commercial-use investment property requires new or re-designed signage to advertise and bring in local traffic.
It's a simple fact - you get what you pay for. The best results require:
the Best Design
the Best Materials
the Best Technologies
the Best Artist in Assembly
Your residential OR your commercial entrance sign is the first impression made on visitors to your community or your business. While you can look for less expensive options for now, keep in mind you will be in this same situation again in 3 or so years.
Let us discuss the wide variety of signage solutions and materials, and then you decide. We will start from the most typical signage applications:
Sign Letters: If you have an existing surface, such as an exterior wall, an outdoor column, a fence or monument, you will need Sign Letters. We offer sign graphics that work for both indoor and outdoor use. Let us share a secret - if using the proper materials, there is no difference between the sign materials used in an indoor lobby display and an outdoor commercial franchise sign. This is where many people are taken advantage of. Another manufacturer may look to increasing their profit by cutting costs by using cheaper materials. It's a simple fact - Inferior materials do not perform well over time. You can spend wisely now and get something that will last, or you can try to save now only to come back soon.
Sign Monuments: An architectural signage structure (the fancy speak others charge extra for) is a simple project. Here are the factors: You want what you can get by local law You want to get noticed as much as possible but without being while still being tasteful You want something that complements your facility (and/or neighborhood) You want something that will last with little if any maintenance You want a solution at the best price available. Do not fear, you are not asking too much. Each member of our staff have been members of Home Owners Associations, fought in front of City Councils… we've been through what you are trying to accomplish.
Our Mission - We will listen to your needs, and provide a solution that will be the best money spent. We have experience in all oddities - material specifics for Historic Preservation Committees, Department of Transportation break away requirements, footer diagrams for concrete in coastal sand hurricane environments.
You name it, we speak it.
We are also welcome to openly discuss the pros and cons of all material options for any sign application. Wood, steel, aluminum, acrylics, PVC, ACM - we are fluent in all current materials and technologies. Just ask! It's your choice.
You can invest correctly, or pay again later.
---
Here are some of the various brands we use in our sign production:
ACM (Aluminum Composite Material) - Alumalite, OmegaBond, LusterBoard, BeBond. Available in standard colors and metallic finishes (mill and brushed finishes).
Acrylics - Acrylic sheets offer a unique combination of high molecular weight and uniform thickness. Weather resistant, rigid, strong and stiff. Colors resist fading from outdoor weather and UV light.
Digital Printing - 6 color process on high-performance 3M digital media, 3M lamination in choice of flat, matte or high-gloss finishes.
EPS Foam (expanded polystyrene) - Our proprietary brand and density.
Hard Coat - Our proprietary mix.
HDU (High Density Urethane) - Sign Foam, Precision Board, Duna, CoraFoam (lower density).
LED Lighting - Principal Street Fighter LEDs, available in multiple color options.
PVC - Palram, Ex-Cel and Sintra.
Sign Enamels - 1Shot! commercial sign enamels and Matthews Paint Systems with color matching.
Stucco - Both Masterwall and Dryvit, with color matching systems.
Vinyl - Avery, Oracal, BriteLine and 3M.
---
If you want more details on how the Best Sign Monuments are constructed, we use the using the nationally recognized EIFS (Exterior Insulated Finishing System).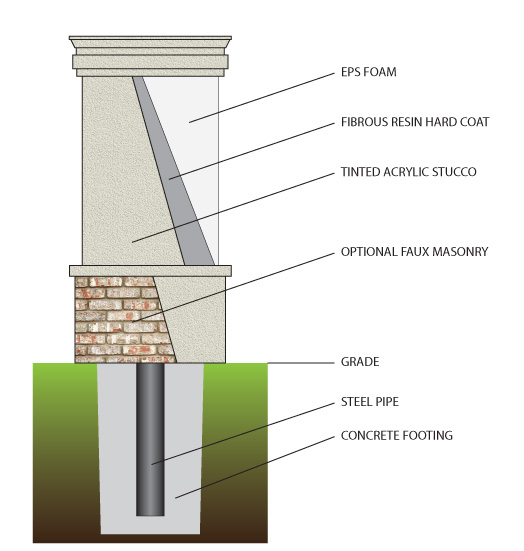 EPS - Expanded poly-styrene is the base of each structure's shape and design. The shape is cut using hot-wire technology.
Fibrous Resin Hard Coat - This is the exterior strength in the structure.
Tinted Acrylic Stucco - Textured just like traditional stucco, we are able to use multiple colors on a single monument and can match your building's paint color system.
Optional Faux Masonry - We have many brick styles and stone masonry options. We also match architectural textures and elements.
Grade - The monuments sit flat on the grade, no concrete slab required. Landscaping is commonly added around the bases to add softscaping.
Steel Pipe - These supplied pipes are for the installation of the monuments into the ground on your site.
Concrete Footing - Depths vary to local code.
We start with a large EPS (Styrofoam) foam block. Your sign monument design is cut to shape using 3-D hot-wire technology. Our software allows the use of removed material to add decorative accents and even embossed graphics. Once all of the shapes are cut from the foam core, we then assemble for the next step - the resin coating. We spray a thick coating of acrylic resin, which is what gives the monument structure its structural integrity. The next step in fabrication is to spray a tinted acrylic stucco textured top coat.
---
---
The History of EIFS (Exterior Insulated Finishing System).
Exterior insulation and finishing system (EIFS) is a general class of non-load bearing building cladding systems that provides exterior walls and other structures with an insulated, water-resistant, finished surface in an integrated composite material system.
EIFS was developed in Europe after World War II and was initially used to retrofit masonry walls. EIFS started to be used in North America in the 1960s, and became very popular in the mid- 1970s due to the oil embargo and the resultant surge in interest in high energy efficiency wall systems such as EIFS provides.
Early uses were on masonry buildings, but since then the majority of uses were on wood framed buildings and molded architectural elements. In the early 1990's EIFS became the go-to solution for free-standing, signage applications.
As of 1997 EIFS accounted for about 4% of the residential siding market , 12% of the commercial siding market and about 45% of the sign monument market. As EIFS effectively and beautifully replicates faux stone, brick and other textures, it is often the preference over standard masonry.
Municipalities too, in the 1990's came on board with the monument structures as well, commonly adding them to their permit regulations. Two important reasons are the up-scale esthetics adding beauty to a community but also the EIFS system's ability to exceed breakaway codes in the event of vehicle collisions. Also, when municipalities are using eminent domain for street widening projects, these monument structures can easily be removed from their concrete footings and moved to new positions, thereby saving tax pay dollars in signage replacements for affected businesses.
The monuments themselves are not in need of any poured concrete slab for installation, yet with their interior structure, steel posts and concrete footers, they can withstand up to 160 mph winds. More often than not they are more commonly hit by cars. On this occasion, the EIFS monuments exceed breakaway codes as it is far better to hit than a wall of masonry resulting in far less damage to both the car and monument.
The best benefit of EIFS is the option to add architectural details that are composed of the same materials, literally the sky is the limit of what can be designed with these materials. They are widely used on residential/commercial projects in North America and are gaining popularity worldwide.
---
Our Best Sign Monuments are made to order. We can match any color scheme by paint manufacturer batch code, and match any existing masonry on your property by digital photograph.
Keep in mind there is no need for a concrete pad for our products.
Our monument solutions are designed to match your needs. We are more cost-effective than hiring a local contractor for the monument, a local mason (if your monument has faux masonry), a sign shop for the graphics, and an electrician (if your monument has lighting).
---
Monument Models

Need Ideas? See some.
See the Standard Sign Model Designs and more.

See Our Work

Examples? We have many.
Look at numerous pictures of completed sign projects.

Get A Quote

Questions? Get answers.
Complete our online form to receive a free quote.
---
The Best Sign Monuments require the Best solutions. Our focus is to offer a painless, one-stop source for your new sign monument project needs. Our goal is to make you look your Best, and to save you unnecessary expenses. And Yes, we deliver to any job site in the continental United States.
Feel free to browse our Online Portfolio to see hundreds of examples of our work. You are welcome to complete our Online Contact Form to initiate the process of receiving your complementary consultation.

Check out our Sign Photo Collage Gallery which includes hundreds of examples of signage projects we have designed and produced over the years!
---