Monument Signs For Business – Using monument signs for business parks and large buildings is an eye-catching way to identify your business, as well as make it easier for drivers and passers-by to find. Whether it's in front of a business complex, a large office building, or even a church or school, a monument sign gives your building the gravitas and stability of a serious endeavor.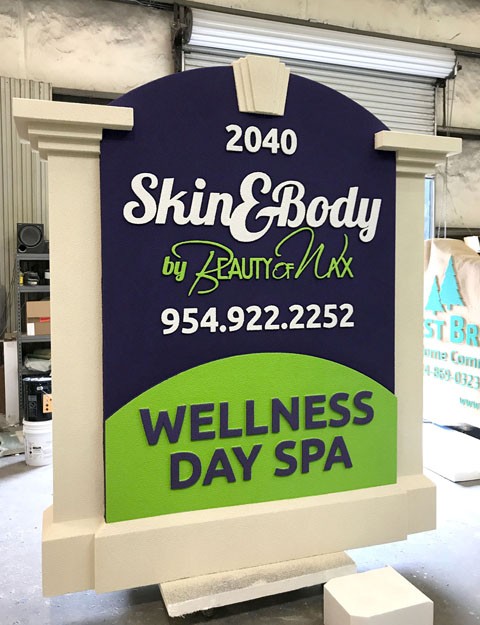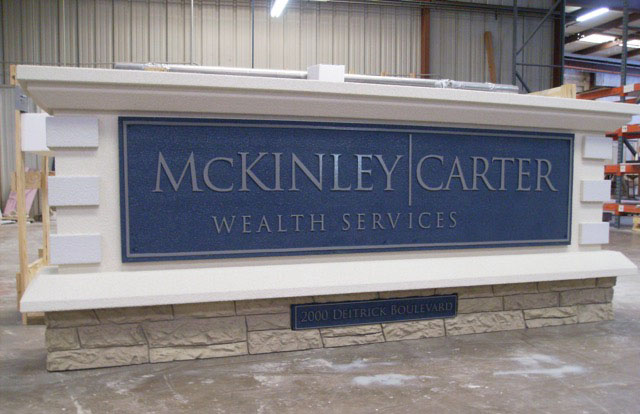 Imagine for a moment that your business is inside a large office complex (or your business is the large office complex). How seriously will people take you if your only signs for business are a couple of yard signs, or a post and panel sign?
Yard signs and post and panel signs are great signs. In fact, we make a lot of them. But, they have to be used in the right setting.  For a large, glass-sided multi-story office building a sign that makes an impact is needed.
Similarly, 12 foot monument signs for business look out of place in front of a small commercial building in a quiet neighborhood. All are worthy businesses, and all are attractive signs, but each business has an image that can only be presented with certain signage.
Monument signs for business can be created to portray a variety of looks. Our sign specialists can work with your local stone mason to design the right sign with the best materials to match your business's surroundings, or we can create a sign, frame, and base out of lightweight materials that are easy to maintain, and will last for years.
Monument signs for business can come in a wide range of colors, textures, and architectural features. We can give your sign a more rustic look by using field stones for a base and a wood timber background. Or we can create a more traditional look with a brick base, adding Greek columns for support, and a Greek Revival peak on the frame.
Our design team can also create expanded polystyrene foam core signs, which use a lightweight foam core that has been covered with a hard surface coat for extreme durability. They can be made with a wide range of finish colors, textures and sizes. Our sign design specialists are only limited by your imagination – and local building codes.
Here are some examples of our 3-D embossed sign panels as well: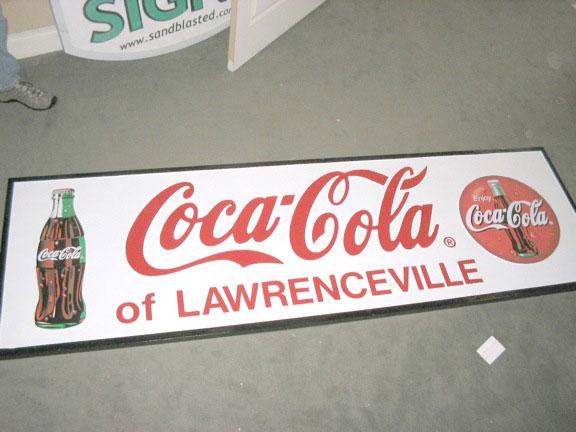 For more information on our signs for business, you can visit our website. Give your business the credibility it deserves with beautiful signs for your business.
Our sign products arrive fully assembled, ready to position in place. We offer faux masonry such as brick and stone matching, embossed graphics that are vandal resistant, and other options such as:
We have fine-tuned every aspect of made-to-order sign monuments. You will be in touch with an experienced sign designer, seasoned in cost-effective solutions. We listen to your needs and deliver!
Our team will walk you through every stage, from design to installation, making the entire process simple and rewarding. We have sign monument examples in every climate imaginable, and are already set up as approved vendors in City Planning & Development Departments nationally, making Permitting a breeze. We are in fact the ONLY sign monument manufacturer that has yet to lose a single monument sign in ANY Gulf Coastal community in the past two decades' hurricanes!
Our team is a collaboration of artists with decades of experience in the dimensional signage and monument industry. Your project suited to your needs. We will provide you with the most dynamically designed signage solution. We will help you to brand the individuality of your company or property.
Our focus is to design, produce, and deliver the Best sign products.
Our goal is to make you look your Best, and to save you unnecessary expenses.
We offer personal service, creativity and value.
Custom monument signs for business provide a sense of distinction and permanence to your property. Our sign monuments are the style most desired and required by municipalities nationwide for an all over better looking community. With over (2) decades of nationwide success, we will make You Look Your Best!
We welcome any challenge in custom design monument signs for business, and can produce anything you can imagine! Please use our online contact form to start your next sign project. We look forward to working with you!