We recently completed a Full Color LED Sign Monument Project for Weaver Law Firm!
This law firm added a new satellite location in another City, so we integrated a Daktronics LED message board that allows programming all locations from anywhere. Pretty cool!
This project took over a year in paperwork, which we gladly assisted throughout the entire way. After months of revisions, meetings with City Council, Planning & Zoning, DOT – we finally agreed on the following design: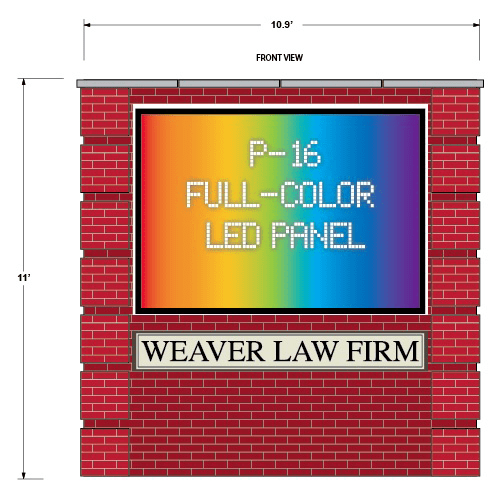 We worked remotely with the clients' brick mason, both low and high voltage electricians, and GC (general contractor) to arrive at these fantastic results!
Here is a picture of our crane lifting these large LED panels into position:
And here is a picture of our technician installing on the back-side and connecting the Cat-5 ethernet data cables to make both panels view the same graphics at the same time through a fiberoptic cable (we also offer wi-fi control access via laptop):
And here is one side of the full color sign monument project displaying its first graphic:
Complete our Contact Form to request a quote on your upcoming monument sign project!
Our team is a collaboration of artists with decades of experience in the dimensional signage, electronic LED and sign monument industries. You will get your custom sign monument project suited to your needs! We will provide you with the most dynamically designed signage solution. We will help you to brand the individuality of your company or property with changeable electronic LED message panels.
---
Are you interested in a new sign? Get A Free Quote!
---
Call us toll free at (800) 735-7209 for your Sign Monument needs!
Our focus is to design, produce, and deliver the Best sign products.
Our goal is to make you look your Best, and to save you unnecessary expenses.
We offer personal service, creativity and value.
Our custom full color LED sign monument project solutions provide a sense of distinction and permanence to your property. Our outdoor signs and monuments are the style most desired and required by municipalities nationwide for an all over better looking community.
With over (2) decades of nationwide success, we will make You Look Your Best!