Custom Church Podium Backlit Sign
Our team was recently commissioned to make an internal lighted sign for a church podium. We have a wide variety of commercial sign materials in stock, and welcomed the opportunity to mix-n-match for a unique piece of art.
Here is the first layer of our our design, a laser cut blue acrylic emblem: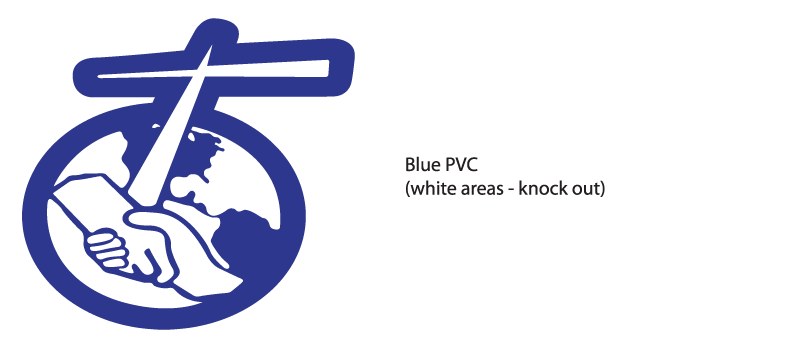 And our next level was applied to the top of the blue acrylic. We carry ACM (aluminum composite material) which is basically two thin sheets of aluminum sandwiched over a solid PVC (plastic) core. ACM comes in a wide variety of finishes. For this project, we chose brushed gold:
The next level is tricky. We digitally printed the graphics on clear #M laminate, then applied to white acrylic. The shape was cut to match the first two layers, which will knock out the lighting (just wait):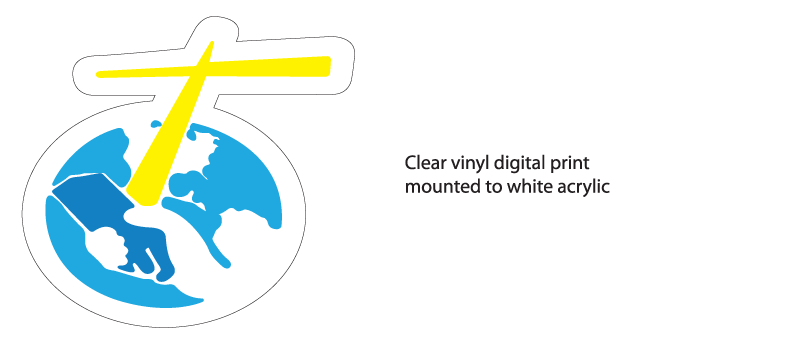 We then produced an ACM backboard in brushed silver aluminum. This gave the sign something the assemble can mount to the podium, and will reflect light from the LED lighting we integrated in the lightbox cabinet:
While we can't show you how we make the lightbox cabinet as it is proprietary, it's basically a custom shaped box that holds low-voltage lighting. Here is a picture of the completed assembly as we tested it before shipping to the customer:
As you can see, we can produce fantastic sign solutions that have lighting effects. We provide everything pre-wired, and include ballasts and even mounting hardware.
We welcome any custom internal lighting sign project challenge you may have!
Our team is a collaboration of artists with decades of experience in the dimensional signage industry. Your project will be designed and suited to your needs. Let us brand your individuality!
Are you interested in a sign for your new project? Get A Free Quote!
---
All of our sign products arrive fully assembled, ready to install.
Our focus is to design, produce, and deliver the Best sign products.
Our goal is to make you look your Best, and to save you unnecessary expenses.
We offer personal service, creativity and value.
Our custom sign solutions provide a sense of distinction. With over (2) decades of nationwide success, we will make You Look Your Best!