What's the Difference Between Monument Signs and Pylon Signs?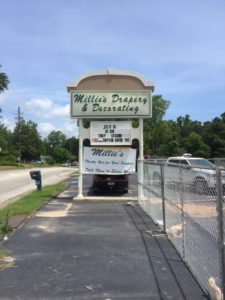 When discussing the appropriate signage to attract the attention of motorists, the graphic artists at Blink Signs frequently suggest the installation of pylon or monument signs for Cleveland business owners. Both signage solutions advertise your company's presence, brand via the display of your logo and corporate colors, and succeed in catching the eye of drivers. That said, some of our clients feel compelled to switch out their monuments when a nearby business installs a pylon. Should you?
In a word: height. The common monument sign is no taller than about five feet. It displays your message at eye height and incorporates beautifully with your landscaping. The pylon is tall and catches the eye of folks that are still quite a distance away. In fact, most pole signs are taller than the buildings that house the businesses they advertise.
Doesn't This Make the Pylon the Perfect Sign?
No, it does not. Consider for a moment a neighborhood with a mixed zoning pattern. Residential homes or apartment buildings mix with storefronts, banks, and similar businesses. Having a super tall pylon in this setting makes the company stand out – but not in a good way. It just does not fit the character of the neighborhood.
When Should I Opt for a Pylon?
If your business is located in an industrial area where distances between manufacturing plants and storage facilities measure in city blocks, it makes sense to erect a pylon and alert motorists in search of your company to your location. A pylon is also a good idea when your business is one of many that are situated along a highway, interstate or four-lane road. Vehicles travel at higher speeds, and catching the eye of drivers earlier is to your advantage.
Remember also that you do not have to opt for the tallest pylon that we can manufacture. Mall management companies like to use pylons to display the names of the stores doing business at their venues, but they do so with signage that is of moderate heights and, therefore, suits the character of the area. Most business clients who order pylon signs will opt for lit versions to enhance the visibility of their messages.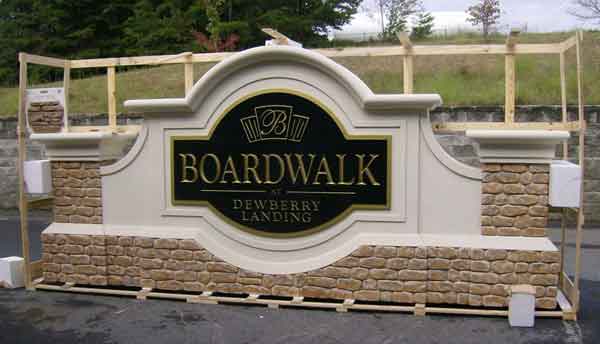 How Do I Know that a Monument is Right for Me?
We will design your custom monument sign with optional lighting (including electronic LED message boards) to your needs, then manufacturer your project in our facilities in Atlanta, GA. Once complete, we will send you detailed photography (and a night time view if it's have integrated lighting). Once you approve, we crate and ship your business sign to your location. The unit will arrive fully assembled, ready to position in place.
If your sign project has lighting or LED panels, all wiring is pulled to a junction box, ready to plug in and play.
Our sign products arrive fully assembled, ready to position in place. We offer faux masonry such as brick and stone matching, embossed graphics that are vandal resistant, and other options such as:
We have fine-tuned every aspect of made-to-order sign monuments. You will be in touch with an experienced sign designer, seasoned in cost-effective solutions. We listen to your needs and deliver!
Our team will walk you through every stage of church sign monument light boxes, from design to installation, making the entire process simple and rewarding. We have sign monument examples in every climate imaginable, and are already set up as approved vendors in City Planning & Development Departments nationally, making Permitting a breeze. We are in fact the ONLY sign monument manufacturer that has yet to lose a single monument sign in ANY Gulf Coastal community in the past two decades' hurricanes!
---
Are you interested in a new sign? Get A Free Quote!
---
Our team is a collaboration of artists with decades of experience in the dimensional signage and monument industry. Your project suited to your needs. We will provide you with the most dynamically designed signage solution. We will help you to brand the individuality of your company or property.
Our focus is to design, produce, and deliver the Best sign products.
Our goal is to make you look your Best, and to save you unnecessary expenses.
We offer personal service, creativity and value.
Custom monument signs provide a sense of distinction and permanence to your property. Our sign monuments are the style most desired and required by municipalities nationwide for an all over better looking community. With over (2) decades of nationwide success, we will make You Look Your Best!
We welcome any challenge in custom pylon signs and monument sign designs, and can produce anything you can imagine! Please use our online contact form to start your next sign project.
We look forward to working with you!