Brick and/or stone monument signs at your community entrances in time become outdated in style. A new design will of course look great, but true brick and mortar is expensive. We offer faux masonry that can be matched for any masonry pattern as well as unlimited dimensional graphic options.
This sign monument example is for the Carver Park residential community in Alabama. This HOA wanted to update their outdated brick sign structure with something a bit more modern.
Here is the existing sign at the community entrance:
They requested faux block stone to look like hand-chiseled granite. The graphics are embossed (dimensional) and double sided for view from both traffic directions. Here is the design we developed and the Home Owners Association approved for production: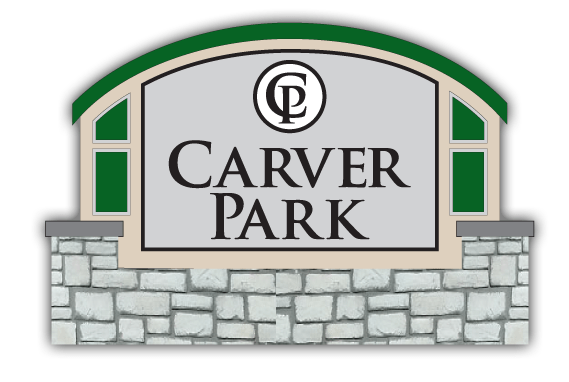 Keep in mind – Faux masonry is less expensive to produce than true brick & mortar masonry, and is easy for us to ship anywhere in the nation! Your project will arrive fully assembled, ready to put in place.
Here is the Carver Park sign monument after fabrication, just before crating and shipment:
And here is the community entrance sign installed by a member in the home owners association: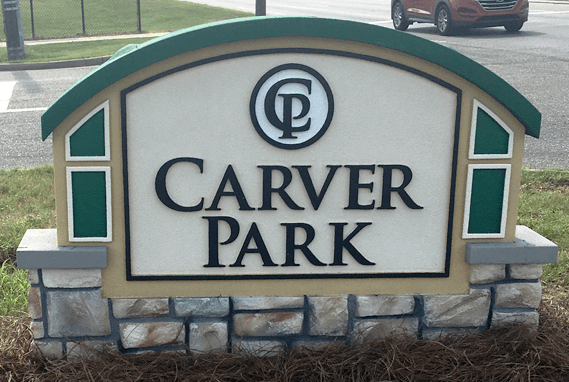 As the manufacturer, we sell direct to the public. This community saved a fortune on this community entrance sign project by removing the old sign and installing the new unit themselves.
Our focus is to design, produce, and deliver the Best sign products.
Our goal is to make you look your Best, and to save you unnecessary expenses.
We offer personal service, creativity and value.
Our sign monuments are the style most desired and required by municipalities nationwide for an all over better looking community. With over (2) decades of nationwide success, we will make You Look Your Best!
We welcome any challenge in faux stone monument signs, and can produce anything you can imagine! Please use our online contact form to start your next sign project. We look forward to working with you!