Sign Monument Warranty – How Long Will They Last?
Your entrance sign is a big investment. A large percentage of our work is replacing signage that was made improperly, on a shoestring budget.
We are often asked "how long will my new sign monument last?"
Let's see a real life example!
We were asked to produce the community entrance sign for Grande View Lakes in Grandview, Michigan.
The customer came up with the following sign monument design based on Model 26 of our standard monument model templates.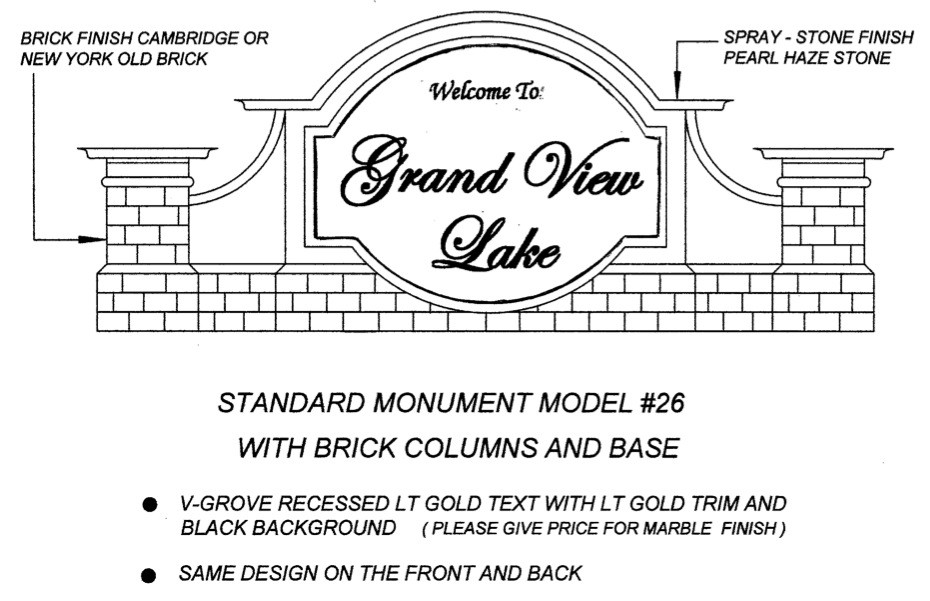 Here is a picture of the new community sign after fabrication. This is a typical example of a completed sign we provide before crating and shipping.
We ship our products nationally. This community is in a Northern Territory with heavy snow. Here is a picture of the sign at the neighborhood entrance in 2016 after a heavy snow.
We recently took a virtual tour of the property in Google Earth. Here is a picture of the sign in 2022 from the street view.
As you can see, in extreme weather conditions, the sign still looks new after a decade of harsh weather.
We have produced the city signage for Miami-Dade and other municipalities on both gulf and Atlantic sides of Florida. We have produced signage for the Atlantis Resort in the Bahamas when it first opened. We have produced the signage for Eielson Air Force Base in Alaska.
To date, we have yet to have an issue with any of our products in any climate environment (with the exception of vehicle impact).
Our product is designed on a breakaway system. So if a vehicle does hit your sign monument, the product literally "breaks away" and prevents serious passenger injury. Brick and mortar sign monument have caused vehicle impact fatalities – not our product.
Did you know if you have a real brick and mortar sign at the entrance of your community, a drunk driver hits hit and is injured in any way, that your development could be liable?
Our designs are proprietary. Our break away systems are proprietary. We have the best signage designers with degrees in graphics arts. We use only the best materials versus shaving costs for profits that simply do not last. In short, we provide the best possible solution for your new sign – a sign that will last.
---
Are you interested in a quality entrance sign monument that will last a lifetime? Get A Free Quote!
---
Call us toll free at (800) 735-7209 for your Sign Monument needs!
Our sign products arrive fully assembled, ready to position in place. We offer faux masonry such as brick and stone matching, embossed graphics that are vandal resistant, and other options such as:
We have fine-tuned every aspect of made-to-order custom sign monuments. You will be in touch with an experienced sign designer, seasoned in cost-effective solutions. We listen to your needs and deliver!
Our team will walk you through every stage, from design to installation, making the entire process simple and rewarding. We have sign monument examples in every climate imaginable, and are already set up as approved vendors in City Planning & Development Departments nationally, making Permitting a breeze. We are in fact the ONLY sign monument manufacturer that has yet to lose a single monument sign in ANY Gulf Coastal community in the past two decades' hurricanes!
Our team is a collaboration of artists with decades of experience in the dimensional signage and monument industry. Your project suited to your needs. We will provide you with the most dynamically designed signage solution. We will help you to brand the individuality of your church or church property.
Our focus is to design, produce, and deliver the Best sign products.
Our goal is to make you look your Best, and to save you unnecessary expenses.
We offer personal service, creativity and value.
Custom sign monuments provide a sense of distinction and permanence to your community. Our sign monuments are the style most desired and required by municipalities nationwide for an all over better looking community. With over (2) decades of nationwide success, we will make You Look Your Best!
We welcome any challenge in custom sign monument designs, and can produce anything you can imagine! Please use our online contact form to start your next sign project. We look forward to working with you!