Public housing sign monuments are a typical example of our work. Chapel Hill, NC came to us looking to unify (9) locations for public housing in their City.  As with any City project, there are budget and design factors to consider.
This City had a sign structure height requirement and maximum square footage for the graphics area. We came up with and suggested the falling design to complement each community: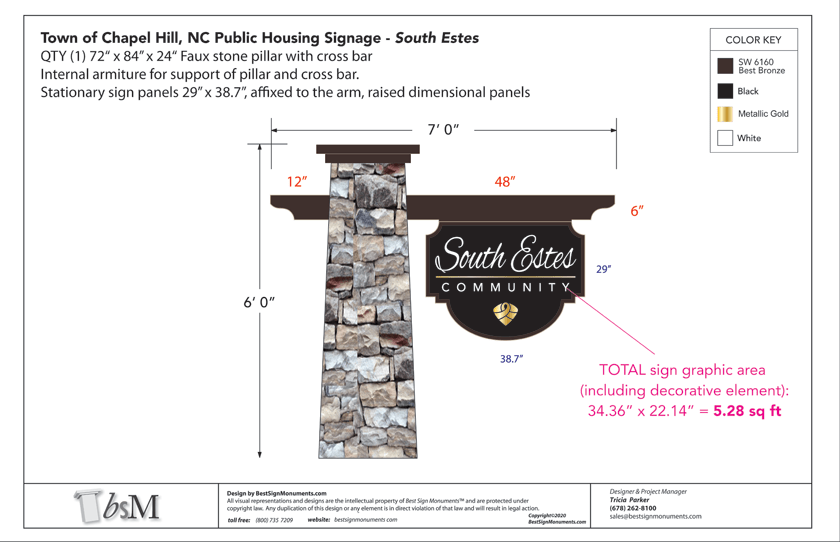 Due to the COVID-19 outbreak, we brought the work home with us and hand-carved each of the (9) sign monuments in a faux stone pattern:
Once all the units were carved, we went back to the studio and applied hard coat and top coat stucco. We then hand-finished each unit to look realistic by accents each individual stone element.
---
Are you interested in beautifying a community with proper signage? Get A Free Quote!
---
Call us toll free at (800) 735-7209 for your custom sign monument needs!
---
Check out our 16 page completed sign monument portfolio with hundreds of sign monument examples.
Our team is a collaboration of artists with decades of experience in the dimensional signage and sign monument industry. Your project will be designed and suited to your needs. Let us brand the individuality of your company or property.
Our focus is to design, produce, and deliver the Best sign products.
Our goal is to make you look your Best, and to save you unnecessary expenses.
We offer personal service, creativity and value.
Our custom public housing sign monuments provide a sense of distinction. Our sign monuments are the style most desired and required by municipalities nationwide. With over (2) decades of nationwide success, we will make You Look Your Best!