The City of Wentzville, Missouri contracted best sign monuments to produce their Historic LED Sign Monument with full-color P-10 LED panels. These changeable electronic message boards are controlled by the included laptop with Wi-Fi access, sol there is no need to dig up the parking lot to bury a data cable.
Our Historic LED Sign Message Boards allow unlimited fonts, colors, pictures – even animation and movies! 24-7 toll free tech support is included with manufacturer 5 year parts warranty.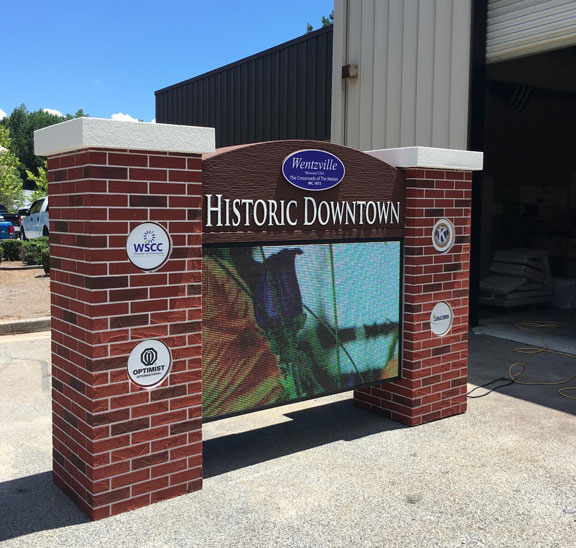 We can design your new historic sign monument with integrated LED message boards, or ship you the LED panels directly to easily apply to your existing facility or facade. Check out our standard monument models (page 1 of 8 for 40 models total) to get some ideas on a new monument design.
This custom sign has integrated programmable LED panels on both sides. With all of our LED sign solutions, a new programed laptop and wireless (Wi-Fi) controller access was included. Our changeable electronic LED message boards are made in the USA and have 24-7 toll free tech support.
This entrance sign has faux brick and The community organizations who sponsored the project are honored with circular dedication plaques embossed in the columns.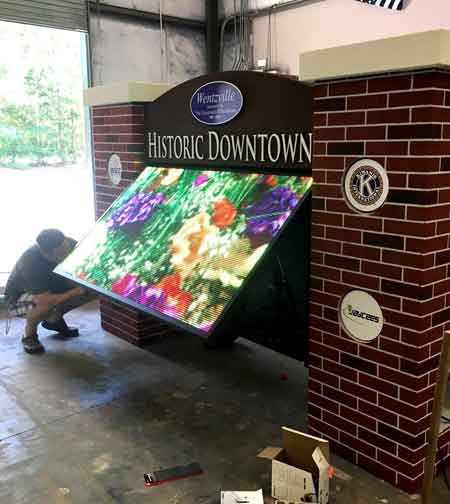 We make everything in house and ship sign projects fully assembled. This client need only to position the unit and connect the 3 wires to the integrated junction box to a dedicated power feed. The LED functions like on and off, dimming the brightness at night, time and even daylight savings time are all controlled by the programed laptop. We've taken all the difficulties associated with programmable LED panels and simplified all processes into what our clients describe as both "easy to program" and "fun to play with."
Our team is a collaboration of artists with decades of experience in the dimensional signage and monument industry. Your project suited to your needs. We will provide you with the most dynamically designed signage solution. We will help you to brand the individuality of your company or property.
---
Are you interested in a new City Entrance Sign? Get A Free Quote!
---
Our focus is to design, produce, and deliver the Best sign products.
Our goal is to make you look your Best, and to save you unnecessary expenses.
We offer personal service, creativity and value.
Custom monument signs provide a sense of distinction and permanence to your property. Our sign monuments are the style most desired and required by municipalities nationwide for an all over better looking community. With over (2) decades of nationwide success, we will make You Look Your Best!
We welcome any challenge in custom entrance sign monument designs, and can produce anything you can imagine! Please use our online contact form to start your next sign project. We look forward to working with you!