Gold Inlay Sign Letters make your community look fantastic!
We can use any font (typeface) and/or any logo on our computer router tables and produce individual letters & logos. These pieces are made in a wide variety of materials such as PVC plastic, high density urethane (HDU) Sign Foam and even metal.
This is a new product to the sign industry – gold inlay sign letters:
Let's walk through a community entrance sign structure that is a curved wall in brick. Individual sign letters are the perfect solution for a curved wall as a flat panel will not mount correctly.
Our product arrives with everything included for a one-man installation. Buying direct from us (the manufacturer) and installing yourself will save you half the costs of contracting a local sign franchise.
The first step is to tape the paper template to the wall, step back, and make sure it is in perfect position. The paper template has a black in plotted outline of each character, and indicates where to drill the holes.
Using a 3/16″ masonry bit and a cordless drill, all holes are drilled into the facade as shown:
The next step is to screw in the stainless threaded rods (known as "pins") into the back of each element.
Now, you simply 'pop' each element into place. We take into account repeating letters have the exact same holes in the back, so you are not looking for the correct letter 'N' of the two in this project, for example.
Here are all of the letters in position: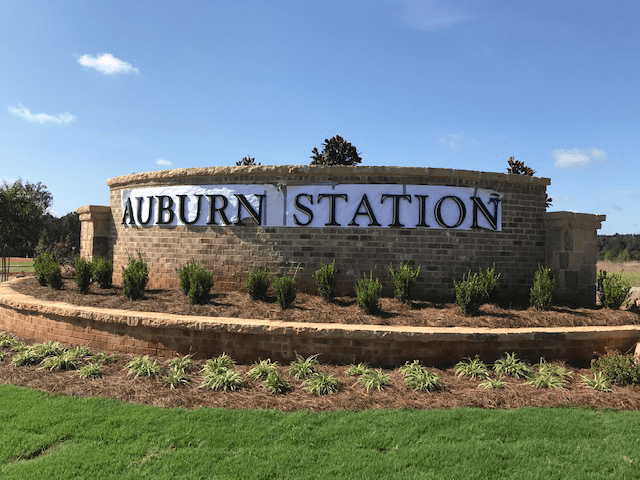 Once everything is in place, you remove and dispose the paper template!
We can do any color combination (or just a plain solid color) you like! We can also do metallic gold, metallic silver, etc and in any combination (silver letters with gold accents, gold letters with black accents, etc.).
Check out our 34 page sign monument photo collage with hundreds of sign monument and custom sign letter examples!
Our team is a collaboration of artists with decades of experience in the dimensional signage and sign monument industry. Your project will be designed and suited to your needs. Let us brand the individuality of your company or property.
---
Are you interested in a new sign? Get A Free Quote!
---
Call us toll free at (800) 735-7209 for your Sign Monument needs!
Our focus is to design, produce, and deliver the Best sign products.
Our goal is to make you look your Best, and to save you unnecessary expenses.
We offer personal service, creativity and value.
Our custom gold inlay sign letters provide a sense of distinction. Our sign monuments are the style most desired and required by municipalities nationwide. With over (2) decades of nationwide success, we will make You Look Your Best!