Entrance Signs: Why they matter for your community & how to choose the perfect one.
What would you call the signs and features at the front of every neighborhood or residential community? An entrance sign monument! This feature is what anchors and provides helpful direction for any community, cementing your neighborhood's credibility and professionalism.
What your community's entrance sign monument says about the neighborhood it represents can largely differ based on the amount of care taken in the design stage of the monument. Functional yet elegant entrance signage for your community is an essential part of creating the best first impression for potential homebuyers.
For neighborhoods and residential communities, your entrance signage provides an excellent opportunity for you to distribute important information among your community and to visitors, and will assure that your neighborhood or residential building stands out.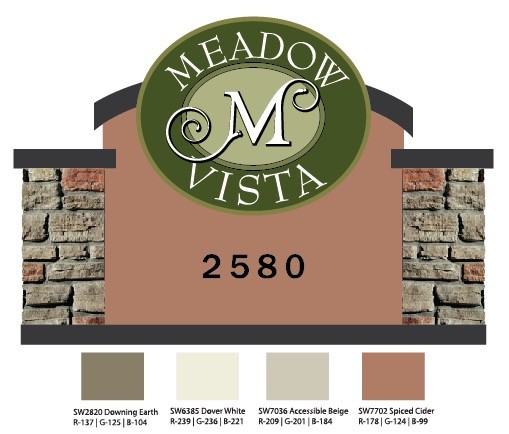 It is also imperative that the entrance sign monuments are crafted specifically with your community in mind. Consider your neighborhood's sense of character: depending on the overall aesthetic feel of your neighborhood or residential community, a more minimalist, corporate design might feel right for your entrance sign, or perhaps something on the more eclectic or outdoorsy side would feel more appropriate.
No matter what your community's aesthetic is, we will partner with you to help you achieve the right look for the best price.
Failing to invest in entrance signage for a community, however, can result in an underwhelming or uninspiring first impression. Luckily, here at Best Sign Monuments, we have your back with top-notch designers using the best materials available for beautiful and durable entrance signage perfectly suited for your specific community's needs. With expertise designing entrance sign monuments nationwide, our custom entrance signage services offer the best quality for a competitive cost, and we can't wait to install an exquisitely crafted custom entrance sign for your community!
The importance of your community's entrance signage
Just a few of the benefits your community will experience with upgraded or fresh entrance signage include pleasing aesthetics, distribution of vital information, and clearly defined borders of your community. These benefits will result in higher levels of safety and a much better impression of your neighborhood or residential community as a whole, solely from improvements to your entrance signage. This is easily one of the simplest ways you can markedly improve both the security and attractiveness of your community at a low cost.
Community entrance signs are one of the most important aesthetic features of your neighborhood, and whether your priority is increased property value, safety improve, or a desire to distinguish your neighborhood from the rest, an expertly-designed entrance sign will do wonders in meeting these goals. At Best Sign Monuments, our design experts are committed to creating professional, custom signage unique to your community within reasonable time and budgetary constraints.
If your community already has a gorgeous entrance sign, yet you are noticing it is becoming increasingly worn, allow us to revitalize your existing signage to give your community new life! Do not hesitate to get your questions answered today by contacting us, and allow us to provide you with a quote. We can discuss any budgetary or geographical concerns you may have, or any of your ideas or thoughts as you embark on creating the best design solution for your community.
We have a considerable out-of-stage presence, as well, so don't allow location to limit you, either.
The design behind the perfect sign: unbeatable materials & design
Faux stone and brick options are a few of our popular options for community entrance signage for a few key reasons: they are easily customizable, extremely durable, and safer than traditional brick or wood options. The finishes on your entrance sign are guaranteed to last longer and with continue to look great with considerably less upkeep than what would be necessary for more traditional options, and are much safer as well.
The versatility of these options are unmatched, and perfect for customizing your entrance sign to incorporate your logo and brand colors on an embossed graphic panel. From full-color, carefully designed graphics that designed to be embossed on the face of your entrance sign monument, to faux stone or brick, your sign will convey the tone and character of your neighborhood. Whether you use a combination of elements, want to put your logo and exact brand colors on the sign, we will help guide you to the best solution for your unique needs.
There is no limit to the textures, pigments, thicknesses, and patterns of these materials, and our experts will make sure you are wanting for nothing as we begin your entrance signage design. Another design tactic for making sure your entrance signage coordinates well into the existing aesthetics of your community is matching the materials of the entrance sign with those found within the neighborhood. Using similar brick colors and patterns, stone, stucco, and wood that already are utilized frequently in the community will encourage an even stronger association between the entrance signage and the community it represents.
Another popular option, especially among residential communities, that you have available to you is our variety of lighting options. Our lighting options are especially suited for community entrance signs, as visitors and residents will be seek out their community's entrance sign is the dark on their way home each night. A few of our options for entrance signage include top or bottom-upward lighting, ground lighting, back-lighting for graphics, or LED message boards, and any of these options can be energy-efficient and fitted with daylight sensors to ensure that no excess energy is wasted.
We pride ourselves on enabling you to have all the options you can dream of, and we will step in at any time to give suggestions, answer questions, and provide design services. Our goal is to give life to your vision for your community through the entrance signage we can create together.
We work with you to gauge your expectations and needs as the design process begins, and will get to the drawing board immediately to begin working on your entrance signage. After you review, we'll finalize our designs and begin manufacturing your beautifully-designed entrance signage.
This entire process, from design to installation, will typically last less than a month to manufacture your beautiful signage that will last decades. Allow us to invest in your community just as much as you do!
We welcome any custom internal lighting sign project challenge you may have!
Our team is a collaboration of artists with decades of experience in the dimensional signage industry. Your project will be designed and suited to your needs. Let us brand your individuality!
---
Are you interested in a sign for your new project? Get A Free Quote!
---
All of our sign products arrive fully assembled, ready to install.
Our focus is to design, produce, and deliver the Best sign products.
Our goal is to make you look your Best, and to save you unnecessary expenses.
We offer personal service, creativity and value.
Our custom sign solutions provide a sense of distinction.
With over (2) decades of nationwide success, we will make You Look Your Best!