Do-It-Yourself Sign Project examples that we come across in the field. These DIY projects are either comical or use 'unique' materials to advertise.
Every now and then we come across a person or company that has been quite creative in producing their own sign. This month we tip our hats to this golf cart service and repair shop for the creative use of their own product to advertise their business and services.
We are often asked to be creative in both design and materials. Would you believe that sign sign frame was made from a California king bed frame? We sandblasted the frame, cut it into symmetrical pieces, welded the unique design and power coated the resulting structure.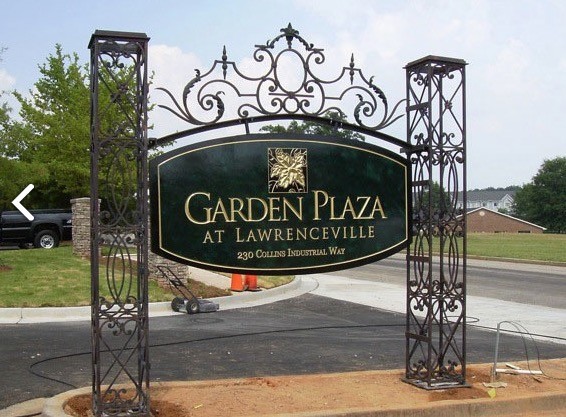 Check out our Sign Photo Collage Gallery which includes hundreds of examples of signage projects we have designed and produced over the years!
The Best Sign Monuments require the Best solutions. Our focus is to offer a painless, one-stop source for your new sign monument project needs. Our goal is to make you look your Best, and to save you unnecessary expenses. And Yes, we deliver to any job site in the continental United States.
Let us assist in re-vamping your storefront, commercial property development or multi-family complex. Our design team can offer many cost-effective ways to revitalize what you have without breaking your budget.
Our dimensional sign graphics are not limited to stand-alone signage structures! Our sign systems can also be modified to produce 3-D embossed graphics that mount to your storefront. Any logo, any font, any color – the options are limited only by your imagination. We absolutely love being challenged! Speak with a Design Specialists, and we will make it happen.
Feel free to browse our Online Portfolio to see hundreds of examples of our work. You are welcome to complete our Online Contact Form to initiate the process of receiving your complementary consultation.