Custom city entrance signs for Kimberling City – what a project!
We started with the design for this small waterfront municipality with this entrance sign monument design: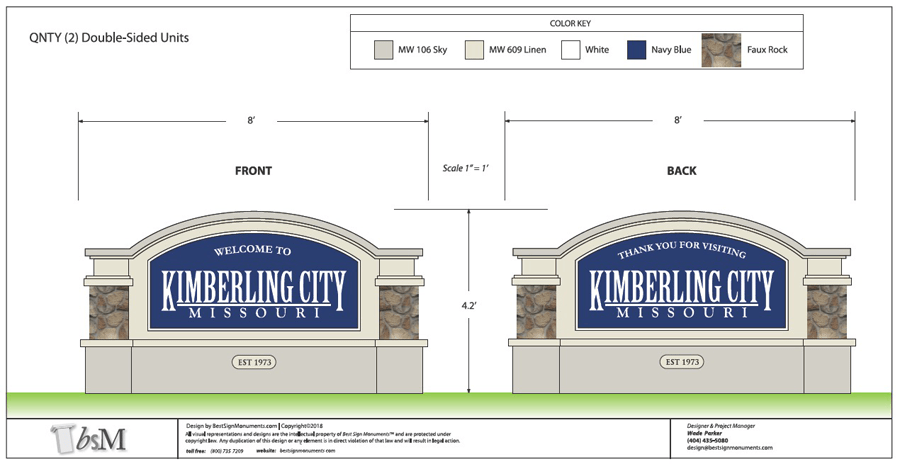 This project was difficult because the Department Of Transportation owned the land at both City entrances. This meant the sign monuments had to follow their strict guidelines of setback (distance from street) and break away (no fatalities upon impact). Our product is the perfect solution. Here is our product before it left our docks:
We worked with Kimberling City, the DOT and all parties involved for 16 months to get everything approved and to specification before we started production. Here are the delightful people at Kimberling City we worked with:
Once the two sign monuments arrived, the Public Works Department installed them in planter beds made of concrete stone and crushed gravel. They did a fantastic job and are quite proud!
Check out our 34 page sign monument photo collage with hundreds of sign monument examples!
Our team is a collaboration of artists with decades of experience in the dimensional signage and sign monument industry. Your project will be designed and suited to your needs. Let us brand the individuality of your company or property.
Our focus is to design, produce, and deliver the Best sign products.
Our goal is to make you look your Best, and to save you unnecessary expenses.
We offer personal service, creativity and value.
Our custom city entrance signs provide a sense of distinction. Our sign monuments are the style most desired and required by municipalities nationwide. With over (2) decades of nationwide success, we will make You Look Your Best!