Custom corrections facility sign monuments – made by the Best!
At Best Sign Monuments, we have extensive experience designing for federal facilities, with particular expertise in correctional facility signage. For correctional facility sign monuments, it is especially important to provide cohesive and easy-to-read messaging through all monument signage across the facility so that all personnel, visitors, and inmates are able to easily find their way and have access to clear information.
Improved navigability
One of our primary goals for our correctional facility signage is to provide a seamless source of wayfinding across the center. For facilities such as these, where a high number of people flow in and out of the buildings all day, signage that successfully conveys locations, rules, procedures, and expectations act as a tremendous aid. Successful signage should act as a helpful resource to those who encounter it, and by investing in well-designed signage for the exterior and interior of your correctional facility, you will ensure that individuals have their questions about directions or instructions answered before they ever need to ask them.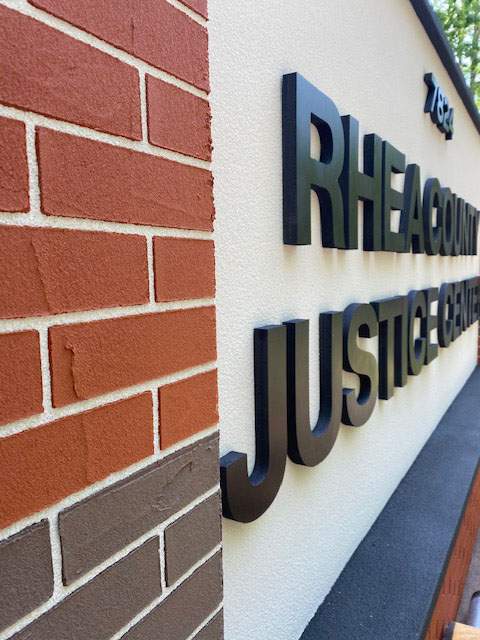 These type of directional or wayfinding signs should be prominent in a correctional facility, and at Best Sign Monuments, we are equipped to supply and create seamless and informative signage solutions for both the exterior and the interior of a correctional facility.
Signage for a more welcoming environment
While creating correctional facility monument signage that is easily navigable is a primary concern of ours at Best Sign Monuments, creating signage that is welcoming is another top priority. Few government facilities are thought of as welcoming environments, but all judicial facilities don't have to stay in keeping with this perception of being imposing and unapproachable. With our signage, which will be the first thing anyone will see before entering the facility, we hope to convey a sense of respect and support, in addition to the chief purpose of wayfinding that a lot of correctional facility signage is intended for.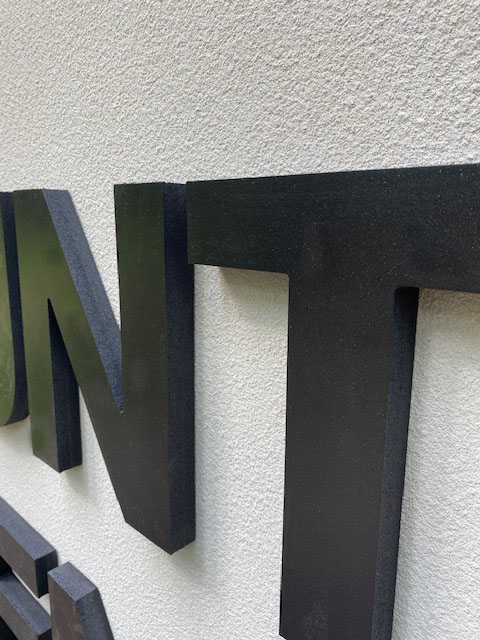 Even minor adjustments or aesthetic improvements to a judicial facility can considerably improve the quality of life of those staying there. Not only that, but improved correctional facility signage can also improve the perceptions of fairness and justice among inmates and visitors alike, and is one of the most affordable ways to enhance the experience of those who pass through.
Clear communication of rules and procedures
A lack of clear instructions is an issue among many correctional facilities, with staff often answering frequently asked question or frequently broken rules by creating makeshift, handmade signs. Instead of resorting to handwritten notes or hastily printed sheets of paper, installing signage that effectively communicates these expectations will be another way to foster respect for individuals and improve the overall quality of life within the facility. Improved signage might look like the same information conveyed in several different languages, in a more aesthetically-pleasing way.
Your correctional facility sign monuments may extend beyond just entrance signs – visitors and new residents will be unfamiliar with the interworking of the facility, and it would be a huge benefit to everyone to invest in clear wayfinding signage providing helpful information within the facility, as well. This will help to provide clear understanding across the facility about the key procedures happening there.
At Best Sign Monuments, we hope to partner with you to match the mission of the facility with the messaging of the signage. With the creation of cohesive and easily intelligible correctional facility monument signage, perceptions of fairness will be improved, as well.
The design of correctional facility signage
Fresh, updated monument signage with improved designs will change the look, feel, and navigability of the correctional facility for everyone who enters. Correctional facility monument signs are often rectangular and constructed with the building in mind, usually using similar materials and colors as the building. With our signage, we hope to take the traditional correctional facility monument sign model further, and provide judicial facilities with signage that is elegant, simple, and effective.
Our expert designers will utilize design principles such as consistent and legible font, the size and placement of signs at eye level, and the consideration of the architecture of the facility as well as any existing branding already used there. Oftentimes, correctional facility monument signage will match the existing building by using similar materials and evoke a consistent brand through the use of signature colors or colors already in use around the building.
At Best Sign Monuments, we can create correctional facility monument signage that is simple, replicable, and cost-effective. Materials are chosen with durability in mind, and should be easily modified to allow for changes in the facility.
Flexibility, such as providing additional space on some signs where changing information can be affixed, or the replacement of static signs with magnetic boards or electronic signage, might be a few other important options for you to consider for your correctional facility, as well.
When you decide to dive into improving your correctional facility's signage, it might be helpful to start by taking an inventory of the existing signage as you begin to consider where you might need improvements. This is especially important in regards to the wording of your correctional facility signage – consistent wording throughout all signage will help to create a seamless look and feel of authority and consistency across the facility.
How to get started
Best Sign Monuments is ready to partner with you to help enhance the look and feel of your correctional facility. By working with our expert designers, you will have full capability to customize all of your correctional facility signage completely.
At Best Sign Monuments, we promise to deliver products that live up to our name. We use only the best materials and employ only the best designers. For the quality you will receive, we offer the best prices, as well. You won't have to sacrifice design for function; we will manufacture beautiful correctional facility monument signage that enhances the overall appearance of the facility while also providing essential wayfinding and information dissemination services.
We hope you'll give us a call today to discuss your correctional facility monument signage needs. We will get you a quote after we talk about your expectations, and then begin designing your custom correctional facility monument signage immediately. Before you know it, our designers will provide you with drawings for your revision, and once you decide the design is exactly what you envisioned, we'll start manufacturing the final design and deliver your new correctional facility signage to you for installation. On average, this entire process should take about a month to complete.
---
Are you interested in a quality entrance sign monument that will last a lifetime? Get A Free Quote!
---
Call us toll free at (800) 735-7209 for your Sign Monument needs!
Our sign products arrive fully assembled, ready to position in place. We offer faux masonry such as brick and stone matching, embossed graphics that are vandal resistant, and other options such as:
We have fine-tuned every aspect of made-to-order custom sign monuments. You will be in touch with an experienced sign designer, seasoned in cost-effective solutions. We listen to your needs and deliver!
Our team will walk you through every stage, from design to installation, making the entire process simple and rewarding. We have sign monument examples in every climate imaginable, and are already set up as approved vendors in City Planning & Development Departments nationally, making Permitting a breeze. We are in fact the ONLY sign monument manufacturer that has yet to lose a single monument sign in ANY Gulf Coastal community in the past two decades' hurricanes!
Our team is a collaboration of artists with decades of experience in the dimensional signage and monument industry. Your project suited to your needs. We will provide you with the most dynamically designed signage solution. We will help you to brand the individuality of your church or church property.
Our focus is to design, produce, and deliver the Best sign products.
Our goal is to make you look your Best, and to save you unnecessary expenses.
We offer personal service, creativity and value.
Custom sign monuments provide a sense of distinction and permanence to your community. Our sign monuments are the style most desired and required by municipalities nationwide for an all over better looking community. With over (2) decades of nationwide success, we will make You Look Your Best!
We welcome any challenge in custom sign monument designs, and can produce anything you can imagine! Please use our online contact form to start your next sign project. We look forward to working with you!