Complete Town Sign Monument Package – Maringouin, LA
The Town of Maringouin, Louisiana contacted us for gateway entrance signs into town, as well as park monuments for their walking trails and community center. We also produced 5 non-dimensional panels for use in other parts of the community.
This is a photo of the complete town sign monument package before it left our docks for shipment:
Here is a photo of the town walking trails sign monument before we finished the coloring of the graphics: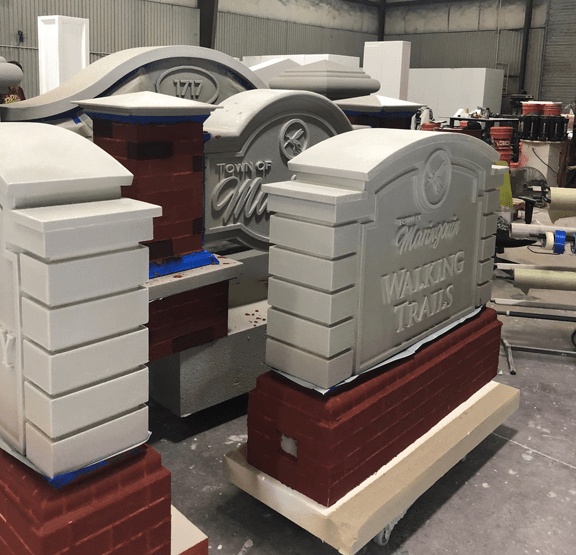 Here is a picture of the town Community Center sign monument before we finished the faux brick and painted the graphics:
And here is a shot of the Town main entrance sign monument in production. Our faux brick pattern matched the masonry of the Town Municipality facilities: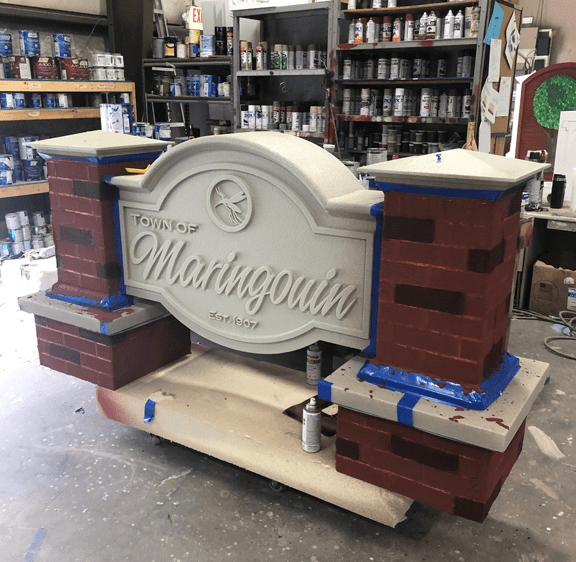 Finally, here is the group shot of all town sign monuments completed before shipment.
Check out our 34 page sign monument photo collage with hundreds of sign monument examples!
Our team is a collaboration of artists with decades of experience in the dimensional signage and sign monument industry. Your Town Sign project will be designed and suited to your needs. Let us brand the individuality of your Town and Community.
Our focus is to design, produce, and deliver the Best sign products.
Our goal is to make you look your Best, and to save you unnecessary expenses.
We offer personal service, creativity and value.
Our complete Town Sign Monument Package signage solutions provide a sense of distinction. Our sign monuments are the style most desired and required by municipalities nationwide. With over (2) decades of nationwide success, we will make You Look Your Best!