We design and produce community entrance sign monument projects. Buy direct from us, the manufacturer, and save.
We were requested to design, produce, and deliver a community entrance sign for one of our many national property management companies.
This particular property, Lakeview Terrace, had no branding. We created this custom sign monument design based on the architecture of the housing in the development: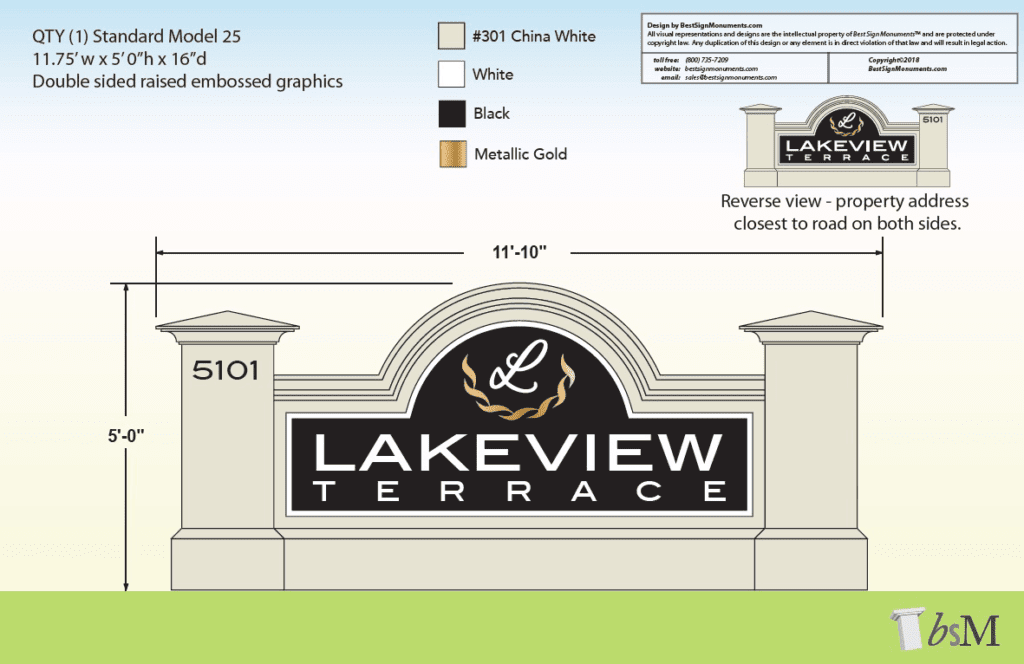 Once approved, we created the architectural sign structure with embossed graphics. As with all of our products, this was produced as a cost-effective solution to be installed with a (2) person crew in under (2) hours. Here is a picture of the sign monument before it left our docks:
While none off our sign monument products require a concrete footer, this customer had issues with visibility from traffic coming both ways. They opted to construct a traditional brick & mortar base for our sign monument to rest upon.
Here is a picture of Lakeview Terrace residential community entrance sign monument installed:
Contact our Sales Team to get your free initial consultation. We look forward to working with you.
Our sign products arrive fully assembled, ready to position in place. We offer faux masonry such as brick and stone matching, embossed graphics that are vandal resistant, and other options such as:
We have fine-tuned every aspect of made-to-order sign monuments. You will be in touch with an experienced sign designer, seasoned in cost-effective solutions. We listen to your needs and deliver!
Our team will walk you through every stage, from design to installation, making the entire process simple and rewarding. We have sign monument examples in every climate imaginable, and are already set up as approved vendors in City Planning & Development Departments nationally, making Permitting a breeze.
Our focus is to design, produce, and deliver the Best sign products.
Our goal is to make you look your Best, and to save you unnecessary expenses.
We offer personal service, creativity and value.
Custom monument signs provide a sense of distinction and permanence to your property. Our sign monuments are the style most desired and required by municipalities nationwide for an all over better looking community. With over (2) decades of nationwide success, we will make You Look Your Best!
---
Are you interested in a new sign? Get A Free Quote!
---
Call us toll free at (800) 735-7209 for your Sign Monument needs!
We welcome any challenge in custom entrance sign monument designs, and can produce anything you can imagine! Please use our online contact form to start your next sign project.
We look forward to working with you!