Our BestSignMonuments.com Pinterest Page is the BEST way to see the latest in our completed sign monument projects.
Click Here to visit – and please subscribe to our channel!
We have examples of community entrance sign monuments, business park sig monuments with changeable tenant panels, City Municipality signs – anything you can imagine!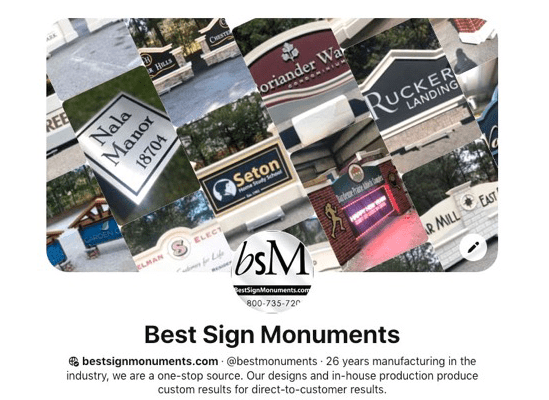 We make each of our sign monument projects to order. Any size, any shape, any graphics, and any color combination you like. We also offer faux masonry options if you would like to add stone, brick or rock to your next project!
Here are just a few of the hundreds of sign monument examples we have completed over the years:
And as always, all of our materials AND labor are made in the USA! We are a Veteran Owned Business.

I these unprecedented times, because of you we have been able to keep our team and our suppliers working. We can not express enough gratitude from our families.
We absolutely love what we do – thank you!
Check out our 16 page completed sign monument portfolio with many completed sign monument project examples!
Our team is a collaboration of artists with decades of experience in the dimensional signage and sign monument industry. Your project will be designed and suited to your needs. Let us brand the individuality of your company or property.
---
Are you interested in signage for your new property development? Get A Free Quote!
---
Our sign products arrive fully assembled, ready to set in place.
Our focus is to design, produce, and deliver the Best sign products.
Our goal is to make you look your Best, and to save you unnecessary expenses.
We offer personal service, creativity and value.
Our custom sign solutions provide a sense of distinction. With over (2) decades of nationwide success, we will make You Look Your Best!