You Deserve The Best Entrance Sign To Your Community!
If you are in the market for an impressive dimensional sign monument structure, you have found the Best that the sign industry has to offer. Our goal is simple - to provide the most effective signage solutions for your needs.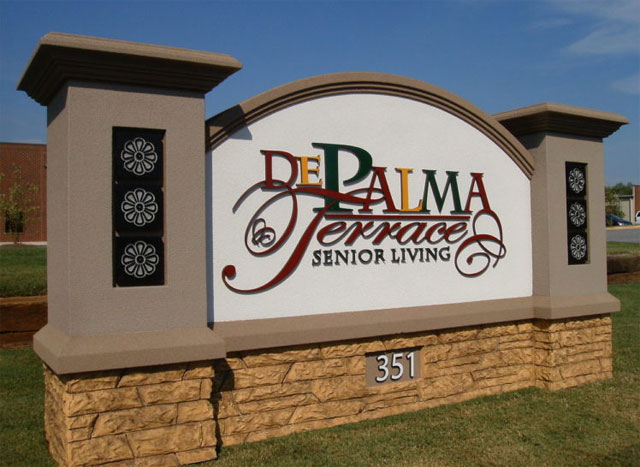 Custom Senior Living Community entrance sign monument with faux stone base and recessed tile inlays on the columns.
By combining our graphic design talents and our knowledge of the best in federally approved construction industry materials, we have developed the perfect sign solution for both commercial and residential monument signage applications. Our custom sign monuments are designed and produced to complement any development, both commercial and residential, and are built to last.
One of the sign monuments in this package (third from the left) has integrated changeable aluminum panels so recreational facility hours of operation can change easily and inexpensively. We matched our signature "wave" model design with a faux coral tile pattern on the bases.
We have fine-tuned every aspect of made-to-order sign monuments. You will be in touch with an experienced sign designer, seasoned in cost-effective solutions. We listen to your needs and deliver the best results.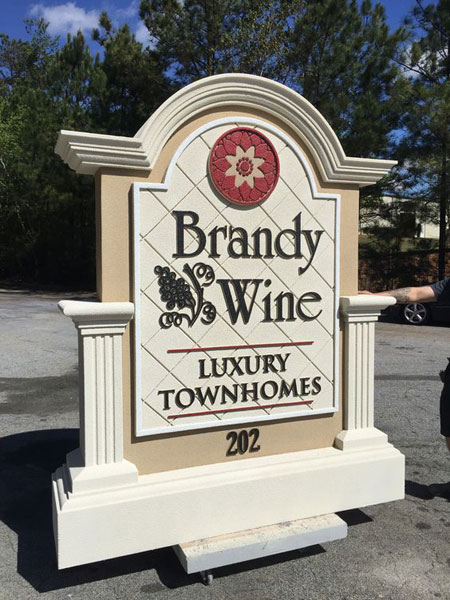 This picture of Brandywine Luxury Townhomes is a custom subdivision entrance sign monument with Greek columns, faux tile pattern graphic background, embossed graphics and 3-D emblem.
Our team will walk you through every stage, from design to installation, making the entire process simple and rewarding. We have sign monument examples in every climate imaginable, and are already set up as approved vendors in City Planning & Development Departments nationally, making Permitting a breeze. We are in fact the ONLY sign monument manufacturer that has yet to lose a single monument sign in ANY Gulf Coastal community in the past two decades' hurricanes!
Watch the animation below to see how we have made the process of buying the best sign monuments SIMPLE!
---
To start your project, please check out the Sign Monument Portfolio section of this site. It contains HUNDREDS of our real-life completed monument sign projects. Next, check out our Standard Monument Models and see if you like any of the designs. You are not limited by these standard designs as each project is made to order.
Please complete our online Contact Form to request a complementary consultation for your sign monument project. Feel free to reference ANY sign monument project example you have seen on our site (by name) that you think complements your development when requesting an Estimate. The more information you provide, the better we can assist your needs upon consultation!
These are the main entrance signs for Spencer Woods, a townhouse community in Maryland. We designed, we produced, we delivered.
We are unique by offering the best designers, the best materials, and the best production artists in the Sign Industry. Our in-house talent encompasses every area of graphic and fabrication fields, designed & engineered to produce the best architectural monument signs.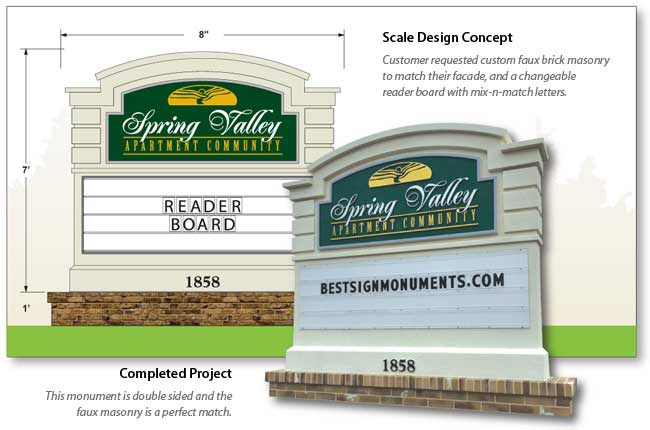 This sign monument has an integrated changeable reader board with faux brick base to match the existing facility.
---
Monument Models

Need Ideas? See some.
See the Standard Sign Model Designs and more.

See Our Work

Examples? We have many.
Look at numerous pictures of completed sign projects.

Get A Quote

Questions? Get answers.
Complete our online form to receive a free quote.
---
Our team is a collaboration of artists with decades of experience in the dimensional signage and monument industry. We will provide you with the most dynamically designed signage solution. We will help you to brand the individuality of your residential subdivision or property development.
Our focus is to design, produce, and deliver the Best sign products.
Our goal is to make you look your Best, and to save you unnecessary expenses.
We offer personal service, creativity and value.
Custom monument signs provide a sense of distinction and permanence to your property. Our sign monuments are the style most desired and required by municipalities nationwide for an all over better looking community. With over (2) decades of nationwide success, we will make You Look Your Best!

Check out our Sign Photo Collage Gallery which includes hundreds of examples of signage projects we have designed and produced over the years!
---